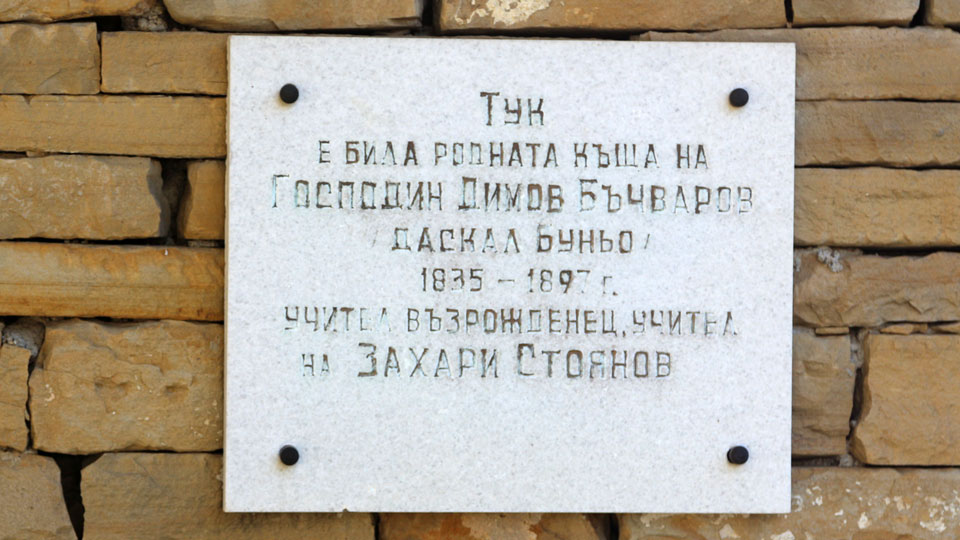 Gospodin Dimov Bachvarov (1835-1897) (BG:Господин Димов Бъчваров) was a teacher, patriot, and social activist. Known to locals as Daskal Bunyo, he was a beloved teacher to generations of students in his hometown of Medven, Bulgaria. He is best remembered as the teacher of the famous revolutionary, writer, and chronicler Zahari Stoyanov.
Early Life and Education of Gospodin Dimov Bachvarov
Bachvarov was born in Medven and attended school in nearby Kotel and Sliven, both early centers of Bulgarian public education, where he sat under the tutelage of Sava Dobroplodni, Dimitar Ruskov, and especially Dimitar Hadji Kostov, with whom he seemed to enjoy a close personal friendship.
Gospodin Dimov Bachvarov: Teacher and Patriot
Upon completing his studies Bachvarov became a teacher in his hometown, where he was active in much more than simple classroom instruction. In 1855 he led an initiative to construct the first purpose built school building in Medven, on a plot of land donated by Vasil Stanev specifically for that purpose. From 1856-59 he led movements to replace Greek with Bulgarian as the language of education in the school and to break away from the Patriarchy in Constantinople.
Bachvarov enjoyed the love and respect of his fellow villagers throughout his long teaching career.
Sojourn in the Aitos Region
Bachvarov worked for a short period in Aitos, Burgas Province, from 1868-1872. The school in Aitos was still under heavy Greek influence, but on arrival in 1868 he quickly changed the language of instruction to Bulgarian.
In 1869 he established the first Chitalishte in Aitos, which he christened Redeemer. The main activity was as a library, and he was its first librarian. It is still operating today, now bearing the name Vasil Levski, providing a broad selection of cultural activities for the town.
In 1872 the Bulgarian families of the village Malko Chenge (today Karageorgievo) decided to open a school and Bachvarov took up teaching duties there. Since the village had no school building, classes moved from house to house. In his short time there he acquired a reputation as a skilled and dedicated teacher.
The Personal Life of Gospodin Dimov Bachvarov
Bachvarov was married and had two sons, who he named Kiril and Metodius.
Despite close contact with revolutionary leaders, Gospodin Dimov Bachvarov survived the War of Liberation and continued teaching in Medven. He died in 1897.