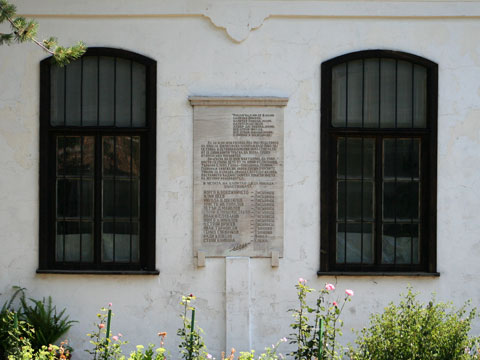 In 1856, a band of armed rebels under the command of Captain "Grandpa" Nikola Filipovski mounted a short-lived rebellion against the Ottoman Turks.  They hatched their plan within the wall of the Peter and Paul Monastery near Liaskovets, outside Veliko Tarnovo, then burst forth to head west towards Gabrovo.  They never made it.  Chased by 300 Turkish soldiers, they were caught and killed.
A plaque commemorating the event and the participants is mounted on the wall of the old seminary building in the courtyard of the Peter and Paul Monastery.
Translated into English, it reads:
On the28th of July, 1856, under the leadership of Nikola Filipovski (Captain Grandpa Nikola), a band of 13 men assembled in the Peter and Paul Monastery and went out to fight against the Ottoman oppressors.
Later, on the 15th of June, 1862, a band of 70 men from Laskovets, Tarnovo, Elena, Gorna-Oriahovitsa, Tryavna and Gabrovo assembled in this place and went out to fight for national freedom against the Turkish tyrants. The nation called this the Hadji Stavrev revolt after the name of its leader.
Counted among the band of Grandpa Nikola:
Yorgo N. Boyadjiicheto -Liaskovets
Iliya Peev -Liaskovets
Nikola Ts. Shutilov -Liaskovets
Hristo Iv. Topalov -Liaskovets
Petar D. Manolov -Liaskovets
Stoyan N. Slabakov -Liaskovets
Yorgo H. Nikolov -Liaskovets
Rev. Stoyan Brusev -Liaskovets
Ivan Tarnovski -Tarnovo
Semko Curvichkov -Tarnovo
Padi Kolesov -Yambol
Stoyan Kambura -Elena