Information about miscellaneous categories of Bulgarian things.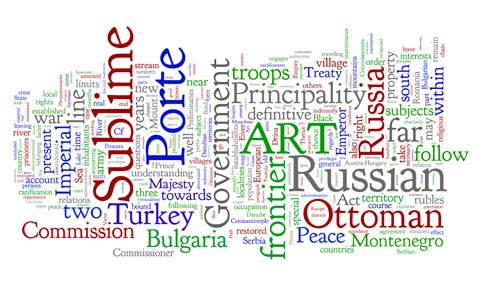 The Treaty of San Stefano marked the end of the Russo-Turkish War. Bulgarians celebrate 3 March as their liberation day from 500 years of Ottoman oppression. Here the number 10 tram sports an advertisement for the Cervantes Institute in Sofia. The number 7 tram rumbling down Boulevard Bulgaria clad in an advertisement for Domaine Boyar wines. The 15th International Philatelic Exhibition, BALKANFILA, will take place at the International Fairgrounds in Plovdiv from 28-31 October. A Bulgarian postal cover from World War I, postmarked at Bucharest on 13 September 1918. Bulgaria was one of over 100 countries to issue stamps commemorating the return of Halley's Comet in 1986. They issued a four stamp set as a souvenir sheet, with each stamp denominated 25 stotinki. Kamenitza created a clever on site beer advertisement by turning a sculpture outside the National Stadium into a couple of giant sized bottle openers. Euro adoption in Bulgaria is a question of when, not if. Timing is linked to meeting five convergence criteria concerning local economic progress. Here are some current graffiti examples from the centre of Sofia, near the national stadium. Trams are an easy and practical way to get around the city. Help us collect pictures of different tram lines, especially new and interesting ads.