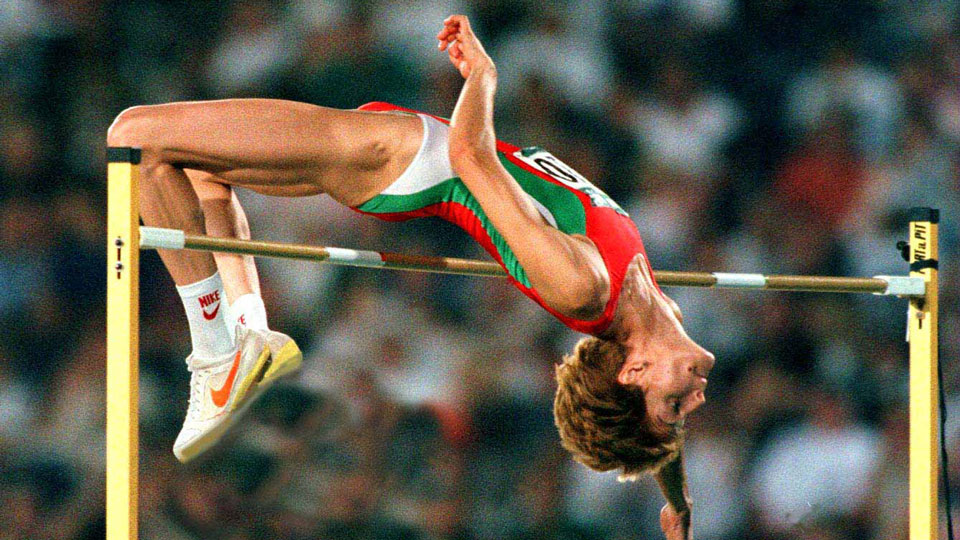 Stefka Kostadinova (BG: Стефка Костадинова) is a Bulgarian World Champion athlete, Olympic Gold Medalist, national and international sports leader, and world record holder in the women's high jump. She is a former Vice President of the Bulgarian Federation of Light Athletics, former Vice Chairperson of the National Agency for Youth and Sports, and five time President of the Bulgarian Olympic Committee.
Early Life and Education
Stefka Kostadinova was born in Plovdiv, Bulgaria on 25 March 1965. Showing athletic potential from an early age, she attended the Plovdiv School of Sports, where she initially participated in gymnastics and swimming.
She was introduced to the high jump during the sixth grade, and won her first competition with an age group world record performance. In 1981, she competed in the European Junior Championships, finishing in 10th place.
She graduated from Plovdiv University "Paiisi Hilendarski" with a degree in Physical Education.
Stefka Kostadinova's Athletic Career
Kostadinova's athletic career took off in 1985, a year in which she won all 25 competitions she entered. She won gold medals at both the World Indoor Athletic Championships and European Athletics Indoor Championships.
In 1986, she won the gold medal at the European Championships in Stuttgart, Germany, and equaled the world record of 2.07m at a competition in Sofia, Bulgaria.
In 1987, she took gold at the World Indoor Championships at Indianapolis and scored a repeat victory, winning gold a second time at the European Athletics Indoor Championships. On the 30 August 1987 she won the gold medal at the World Athletic Championships in Rome, Italy, setting a world record of 2.09 meters.
In 1988, she won a silver medal at the the Seoul Olympic Games. In 1989 she successfully defended her World Indoor Title, winning for the third consecutive time.
After that she suffered a series of knee and foot injuries that kept her from competing for the better part of two years. In 1991 she finished a disappointing sixth at the World championships in Tokyo, Japan, and in 1992 failed to medal at the Barcelona Olympic Games, finishing in fourth place.
She regained her championship form in 1993, winning her fourth world title at the Toronto World Indoor Championships that year. She then missed most of the 1994 competitive season due to maternity leave. Returning to competition in July, 1995, she took gold at the World Championships in Gothenburg, Sweden.
On 3 August 1996 Kostadinova reached the pinnacle of her career by winning a gold medal at the Atlanta Olympic Games.
In 1997, she won her fifth gold medal at the World Indoor Championships, becoming the first athlete to win the indoor title five times in a career
She retired from competition in 1999.
Family Life
In 1989, Stefka Kostadinova married her long time coach, Nikolai Petrov, with whom she had a son, also called Nikolai, in 1995. They divorced in 1999.
In 2007, she married her long-time companion Nikolai Popvasilev, a prominent businessman in the construction industry.
Stefka Kostadinova Awards and Achievements
4 Time Bulgarian Athlete of the Year (1985, 1987, 1995 and 1996)
5 Time Balkan Athlete of the Year (1985, 1987, 1995, 1996 and 1997)
Inducted into the IAAF Hall of Fame (2012)
Her 197 jumps over 2.0 meters are a career world record.
Her 1987 world record high jump of 2.09 meters is one of the longest standing athletics records ever.
Named one of the Top 10 female athletes of the 20th century by the International Athletics Federation.