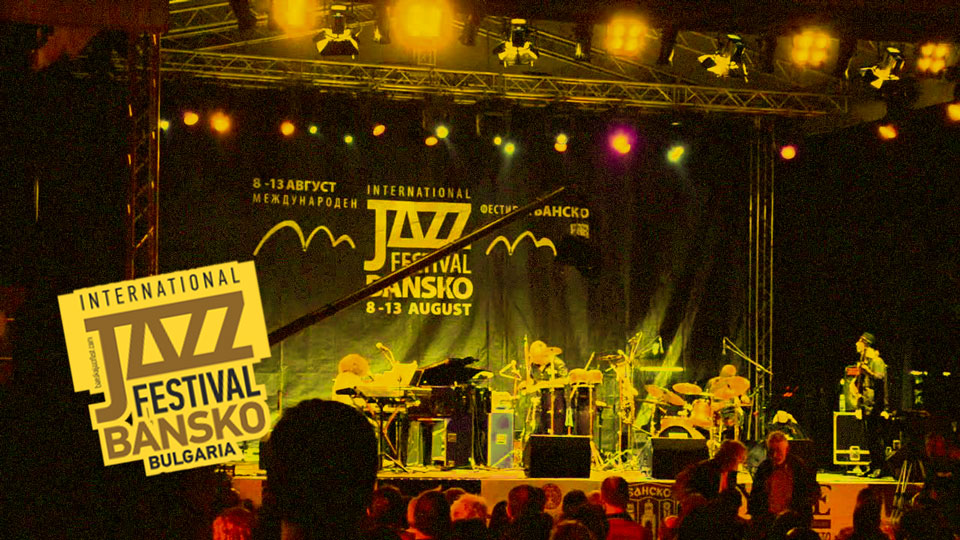 Jazz enthusiasts from around the world converge on Bulgaria next week for the Bansko International Jazz Festival 2017. Thousands of visitors are expected between 5-12 August for the country's largest summer musical event.
This year the festival celebrates it's 20th jubilee with an all star line up including Big Band Blagoevgrad, German boogie woogie great Axel Zwingenberger, American grammy award winner Patti Austin, beloved Bulgarian pop singer Lily Ivanova and Bulgarian jazz legend Camellia Todorova, to name just some of the headliners scheduled to appear. As usual, daily performances take place on the main stage at Nikola Vaptsarov Square in Bansko old town.
The open air concerts are free of charge, beginning each evening at 19:00.
Bansko International Jazz Festival 2017 Programme
Here is the complete daily schedule of performances at the Bansko International Jazz Festival 2017. Links included to artists' websites and performances so you can find out more about them or just check out their music in advance.
Saturday, 5 August
Sentimental  Swingers & Big Band Blagoevgrad with special guest Mihail Yossifov (Bulgaria)
Vlatko Stefanovski Trio (Macedonia)
Axel Zwingenberger (Germany)
Patrizia Laquidara (Italy)
Sunday, 6 August  
Uroš Perić & The Divettes (Slovenia ) & The Mambo Stars Band (Serbia)
Camellia Todorova & JP Trio (Bulgaria)
Spaghetti Swing (Italy)
Side Steps Quintet (Germany)
Monday, 7 August
Acquaphonica (Bulgaria/Italy)
Lyubomir Denev Quartet & Vesela Morova (Bulgaria)
Hilda Kazasyan & Quartet (Bulgaria)
Seven (Switzerland)
Tuesday, 8 August
Swing Kids Big Band (Germany)
Lilly of the West (Bulgaria)
Hot Four (Germany)
Djabe (Hungary)
Wednesday, 9 August
Two Cities One World (Bulgaria/USA)
Chopin on the strings of the Strzelczyk / Rodowicz / Erenc Trio (Poland)
New Beginning (Bulgaria)
Tony Momrelle & Band (UK)
Thursday, 10 August
The Tbilisi Big Band & soloists (Georgia)
Mario Stantchev Trio Inedit (France/Bulgaria)
Frederic Viale Trio with Thomas Cordogli and Yoann Serra (France) with special guest  Magi "Mey" Aleksieva (Bulgaria)
Friday, 11 August
Offlines Project (Israel) & guest Vladimir Karparov (Bulgaria)
Roundella (Italy)
Vassil Petrov – vocalist & Stanislav Arabadjiev Trio (Bulgaria)
Candy Dulfer & Band (Netherlands)
Saturday, 12 August
Peter Salchev & Octet Plovdiv (Bulgaria)
Patti Austin with Trio For Ella (USA)
Midnight Jazz at the Bansko International Jazz Festival 2017
Late night jamming every night from 23:30 to 02:30. Don't miss it!
Check out all three locations:

The Piano Bar at the Hotel Perun Lodge
Featuring the Christina Kirova quintet: Christina Kirova (vocals), Angel Nikolov (piano), Alexander Vasev (keyboards), Stefan Vrachev (bass), and Isaac Benbassat (drums)

The Piano Bar at the Kempinski Grand Arena Hotel
Maggie "Mey" Alexieva & Lolas Quartet: Maggie "Mey" Alexieva (vocals), Ljubo Tzanev (piano), Radoslav Slavchev (bass), and Bogomil Enchev (drums)

Bander Pub at the Hotel Banderitsa
Michael Yosifov Quartet: Mihail Yosifov (trumpet), Milen Kukosharov (piano), Dimitar Karanfilov  (bass), and Atanas Popov (drums)

Afro Brazilian Percussion Workshop
Brazilian percussionist Claudio Kron do Brasil leads a workshop using authentic instruments. Come along on this entertaining Afro-Brazilian rhythmic adventure, reminiscent of the dynamic percussion sounds heard around the Rio Carnival each year.
When: Wednesday, 9 August at 14:00
Where: Nikola Vaptsarov Hall, Bansko

Admission is free. All ages and levels welcome!

Bansko Lodging
Need a place to stay during the Bansko International Jazz Festival 2017? Use our search box below to find hotels and compare prices across all the major booking networks. Find the best deals available today!
Bansko Image Gallery
Experience the beauty of Bansko, Bulgaria. A scenic mountain village, ski resort, and home of the Bansko International Jazz Festival 2017.