Word Cloud of a statement by U.S. Ambassador James Warlick praising the Bulgarian Ministry of Interior for collaboration with U.S. Secret Service during Operation "Shock." Full text follows below.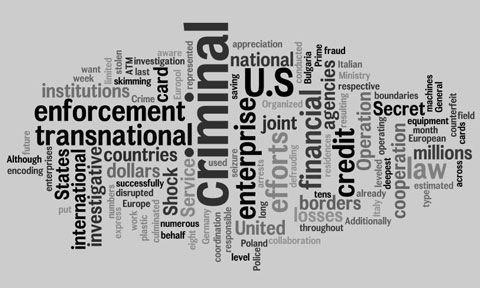 On behalf of the U.S. Embassy, I want to express my deepest appreciation to Deputy Prime Minister Tsvetanov for the outstanding cooperation provided to the U.S. Secret Service by the General Directorate for Combating Organized Crime in "Operation Shock." This eight month long transnational criminal investigation successfully disrupted the ATM skimming operations of a large criminal enterprise operating throughout Europe and the United States. Although fraud losses are still being tabulated, it is estimated that this criminal enterprise is responsible for defrauding U.S. and European financial institutions of tens of millions of dollars.
The joint investigative efforts and coordination between the U.S. Secret Service, Bulgarian Ministry of Interior, Italian Telecommunication Police, and Europol culminated last week in the coordinated arrests of 53 individuals in Bulgaria, Italy and the United States, as well as locating four suspects previously incarcerated in Spain, Germany and Poland. Additionally, numerous searches were conducted by investigators at businesses and residences in several of these countries, resulting in the seizure of voluminous amounts of stolen credit card numbers, white plastic, credit card encoding machines and other equipment used to manufacture counterfeit credit cards.
Thanks to the efforts and cooperation of our law enforcement agencies, a high level criminal organization has been dismantled and put out of business, saving the financial institutions and taxpayers of our respective countries millions of dollars in future financial losses.
As you all are already aware, transnational cyber criminals and international fraudsters have a tremendous advantage over our law enforcement agencies in that they are not limited by national boundaries and borders. These criminal enterprises work seamlessly across national borders in an effort to confuse and evade law enforcement. The international collaboration and joint investigative efforts represented in Operation Shock has leveled the playing field and has struck a major blow to this type of transnational criminal enterprise.