 A speech by Mr. Anu Anguelov, Bulgarian Minister of Defence, at the spring session NATO Parliamentary Assembly in Varna on 29 May 2011. Full text follows. Observations of J. A. MacGahan appearing in The Daily News, August 22, 1876, concerning the scenes he witnessed at Batak following the massacre there in May 1876. An editorial by W.T. Stead (The Northern Echo, June 24, 1876), challenging England's foreign policy concerning the Ottoman Empire and her disaffected provinces. Here is a wordle word cloud representation of the Bulgaria EU Accession Treaty of 2005.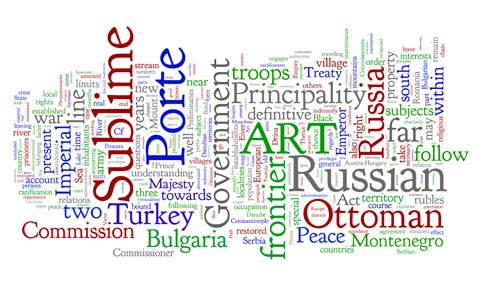 The Treaty of San Stefano marked the end of the Russo-Turkish War. Bulgarians celebrate 3 March as their liberation day from 500 years of Ottoman oppression. For ten years the eyes of Europe have been turned upon Bulgaria. Just emerged from centuries of Turkish rule... Word cloud of a speech by H.E. Takekazu Kawamura, Ambassador of Japan to the European Union, delivered at the Bulgarian Diplomatic Institute in Sofia, Bulgaria on 12 June 2008. Professor Nicola Dolapchiev's Bulgaria, the Making of a Satellite won the competition and was released in 1971. The book is a historical study of the first ten years under Communist control. On entering the town of Nisch from the Constantinople road, a ghastly sight presents itself in the form of a square tower Additional material found in The Graphic for February 17, 1877, concerning Bulgaria and the Eastern Question.