Artistic clouds made up of words from documents and other sources arranged in interesting, beautiful and sometimes amusing ways. A word cloud of the speech by Ms Tsetska Tsacheva, President of the Bulgarian National Assembly, for the 126th anniversary of the Unification of Bulgaria. A speech by Mr. Anu Anguelov, Bulgarian Minister of Defence, at the spring session NATO Parliamentary Assembly in Varna on 29 May 2011. Full text follows. Outgoing British Ambassador Steve Williams shared some personal reflections in his farewell remarks to the Atlantic Club on 14 March. Here is a wordle word cloud representation of the Bulgaria EU Accession Treaty of 2005.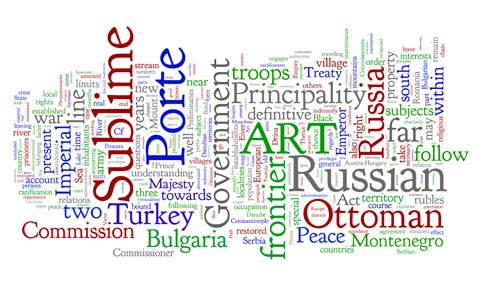 The Treaty of San Stefano marked the end of the Russo-Turkish War. Bulgarians celebrate 3 March as their liberation day from 500 years of Ottoman oppression. Word cloud of a speech by H.E. Takekazu Kawamura, Ambassador of Japan to the European Union, delivered at the Bulgarian Diplomatic Institute in Sofia, Bulgaria on 12 June 2008.