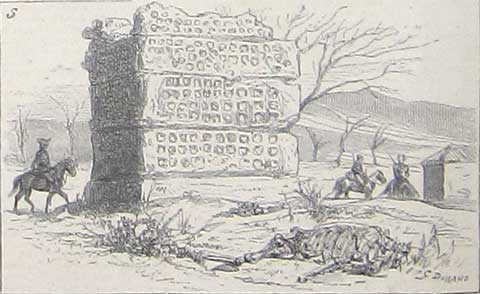 "On entering the town of Nisch from the Constantinople road," writes our special artist with the Turks, "a ghastly sight presents itself in the form of a square tower studded all over with holes that have been used for the placing of human heads. Skulls still remain in many of these recesses, though the greater number have fallen to the ground, and been trampled into the earth. I visited this Turkish Golgotha with Surgeon-Major Stephenson. We discovered the walls to be about three feet thick, and entirely built of heads and mortar, the victims being men, women and children. I picked up the vertebrae of the neck of a child about three years of age, which by the marks on the bone must have been severed by a yataghan. This horrible edifice was the result of the Servian War of 1861-2, and is called the Servian Tower.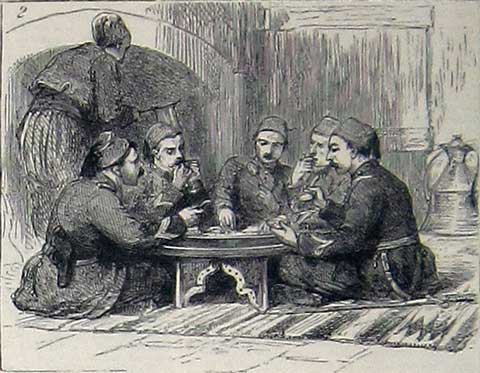 "I do not consider that a Turkish mess would be palatable to every Englishman. The officers sit round a low circular table, à la Turque, and dip their fingers into a large metal dish of stew or roast, generally reeking in fat, each person struggling hard to get the daintiest pieces, which when found are offered out of politeness to the guest that might be present. To add to the repulsiveness of the entertainment, after each mouthful the Turks invariably suck their fingers. As one large metal circular dish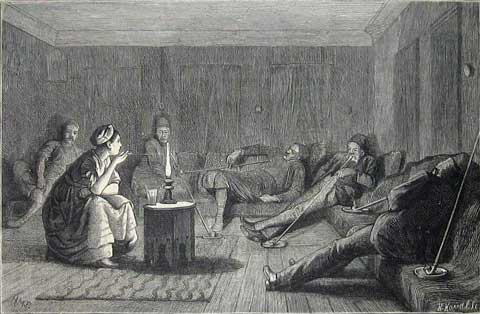 constitutes the dinner service for several Turkish soldiers, washing-up is not a very tedious affair, and is done generally at the fountain nearest their quarters.—Bulgarian ladies are rather amiable towards their English friends, and the landlady of the house will very often take French leave, and join them in the evening with the whisky toddy and cigarettes.
See the original document: