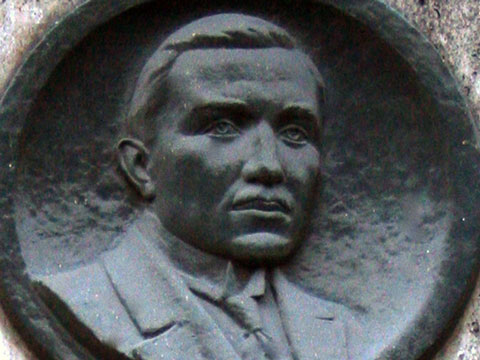 Petko Dimitrov Petkov was a politician, member of the Bulgarian diplomatic corps, Member of Parliament, and Director of the Political Department in the Ministry of Foreign Affairs. He was shot dead in Sofia on 14 June 1924.
Petko Petkov Family Background

Petko Petkov was born into a prominent Sofia political family on 4 May 1891. His Father, Dimitar Petkov,was  a career politician, Mayor of Sofia from 1888-93, and Prime Minister of Bulgaria in 1906-7. His mother, Catherine Risova, was the sister of Dimitar Rizov, who was a Member of Parliament and Bulgarian Diplomat in Italy, Yugoslavia, and Germany.
His younger brother, Nikola Petkov (1893-1947), was a journalist and politician who served as Minister without Portfolio in the first government of the Fatherland Front from 1944-45. He was executed by the Communists in 1947.
Petkov's Political Career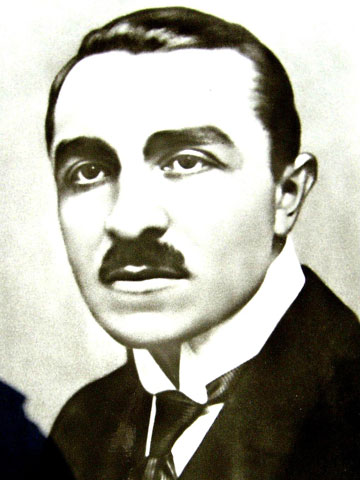 In 1920, Petkov took up a diplomatic post in Paris, France. In 1922, he accompanied Alexander Stamboliiski to the Genoa Conference on monetary policy in Europe. At the end of 1922 he became Director of the political department in the Ministry of Foreign Affairs.
He was an Agrarian sympathizer who was arrested during the 9 June 1923 coup d'etat which overthrew the Stamboliiski government. He was released a month later, and immediately set about restoring local organizations of the Bulgarian Agrarian National Union (BANU.)
In August 1923 he entered into a partnership with the Communists to form the United Front, opposing the government of Alexander Tsankov, and in November 1923 was elected to Parliament on the United Front ticket. He was the editor of the first issue of Zashtita (EN: Defense), the newspaper of the United Front.
Assassination of Petko Petkov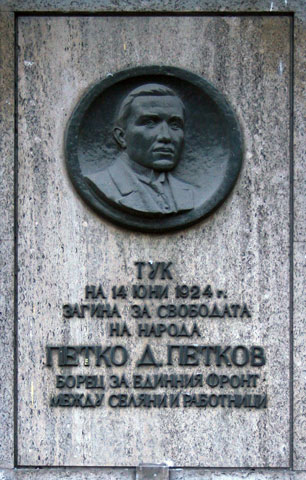 On 14 June 1924, Petko Petkov was shot in Sofia near the intersection of Moskovska and Rakovski Streets. The gunman, Stefan Karkalashev, was a policeman, a Macedonian immigrant from Gevgeli, and an activist with the IMRO (Internal Macedonian Revolutionary Organization.) A plaque marks the spot where Petkov was killed.
A scandal erupted when it became known that the shooter was apprehended, and then quickly released. He was arrested a second time, tried, convicted, and sentenced to death. The sentence was later commuted to life in prison, but he was released after serving only three months.