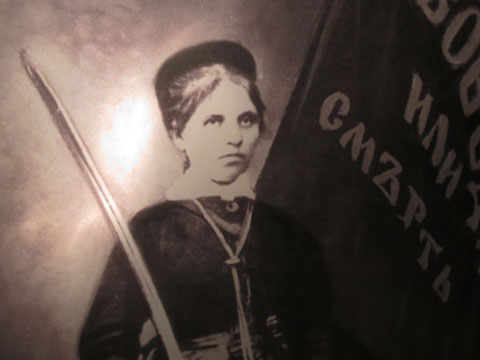 Rayna Popgeorgieva Futekova (BG: Райна Попгеоргиева Футекова) (18 January 1856 – 29 July 1917), better known as Rayna Knyaginya (BG: Райна Княгиня) was a Bulgarian teacher and patriot famous for sewing the flag of the April Uprising of 1876.
Early Life
Born in Panagyurishte, Rayna was the daughter of a local priest.  She showed academic promise as a young girl, and at the age of thirteen went away to the  girl's secondary school in Stara Zagora.  There she completed a five year course of study in only four years, achieving excellent grades and winning prizes for her success.
The April Uprising of 1876
In 1874 Rayna returned to Panagyurishte to become a teacher in the girl's school, where she later became headmaster.  When the revolutionaries began preparations for the April Uprising of 1876, Georgi Benkovski asked her to sew their flag.  She sewed it secretly with the help of local women.  They made the original flag and two copies, three flags in total.  Remembering the event, she later wrote:
"On the second day of freedom the flag was finished.  Then at the urging of the people I took the flag into my own hands, put on a sword, grabbed a revolver, mounted a fine horse and rode through the town proclaiming that the five hundred year long Turkish yoke was lifted forever.  That was the grandest day of our short lived freedom."
After a stubborn and heroic battle Panagyurishte fell to Turkish forces on 30 April.  The main flag was captured by the Turks and most likely burned later at their military base in Haskovo.  Rayna was arrested and driven to Pazardchik, then transferred to the prison in Plovdiv.  She was beaten and forced to live on just bread and water for a month.
After the Uprising, Sojourn in Russia
Under pressure from foreign consuls in Plovdiv, Rayna was freed on 31 July 1876.  Sick and injured, she fled to Russia, where she found refuge in a Moscow convent.  There she had a long period of recuperation at the Ekaterinburg Hospital.  She wrote her autobiography, which was published in Russian by the ladies auxiliary of the Slavic Society in1877.  While in Moscow, Rayna found stipends for Bulgarian children whose parents were killed in the April uprising.  She completed nurses training and became one of the first formally recognized nurses in Bulgaria.
Return and Family Life
After the liberation Rayna returned home.  In 1879 she became a teacher in the girl's high school at Veliko Tarnovo.  In 1882 she returned to Panagyurishte to marry Vasil Dipchev, a fellow teacher and participant in the April Uprising.  They had five sons together and adopted a daughter.  In 1888 the family moved to Sofia when Dipchev became a member of Parliament.
In 1901 the city of Panagyurishte celebrated the twenty fifth anniversary of the April Uprising.  Rayna made a copy of the original flag for the occasion.  It is still kept in her family home, which her descendants donated to the municipality for use as a museum.
Rayna died in 1917 and was buried in Sofia.  Her remains were moved to Panagyurishte in 1976, where she was laid to rest next to her parents in the garden of their family home.
Today her name lives on as a symbol of national pride and the Bulgarian fight for freedom.
[ad#Google Adsense Bulstack 468×60 post banner]