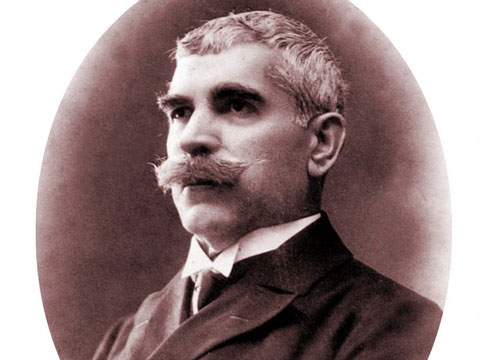 Ivan Vazov is the most famous Bulgarian writer, widely known as the Patriarch of Bulgarian literature. Through his talent and creative works he won the love of the people and authority among critics, politicians and other writers. It is no coincidence that one of the symbols of the capital city, the Ivan Vazov National Theatre, bears his name.
Vazov was born on 9 July 1850 in Sopot, Bulgaria, into a well to do business family whose commitment to patriotism and moral values exerted a large influence in his future path as a writer. From a young age he showed great interest in literature. In the local school he studied Russian poetry. Later he continued his education in the school at Kalofer, where he learned the Turkish and Greek languages and read French (his weakness) and Russian literature. This background played an important role in his literary drive towards perfection.
When he turned eighteen, his father pushed him to begin a career in business, but Vazov showed no interest, because he wanted to be a poet. In 1870 he published his first poem, "The Pine." In the same year his father succeeded in sending him to his uncle in Romania for business training. But even there Vazov remained faithful to his calling as a writer. He learned Romanian and devoured Romanian literature. He also began writing poetry in patriotic style, some of which he managed to publish in newspapers and magazines.
One night he ran away to Barilla, where he stayed a couple of months in the mountain huts and inns. Life among the Bulgarian immigrants and meetings with Hristo Botev had a tremendous impact on the young poet. After this he returned to Bulgaria to take up a teaching post in Svilengrad, where he worked for three years.
In 1880 Vazov relocated to Plovdiv, where he participated actively in the social life and culture of the Province. He became a representative from the People's Party in the Provincial Assembly, while simultaneously working as an editor, publicist, critic and author. Together with his friend Constantine Velichkov, he founded the first Bulgarian journal dedicated solely to literature, Zora, and composed the first Bulgarian Reader, which introduced the Bulgarian reading public to over one hundred Bulgarian and foreign authors.
1886 was a period of political persecution following the unsuccessful coup attempt against Prince Alexander 1 Battenberg. Vazov was compelled to leave Bulgaria. In Odessa he wrote his most famous novel, Under the Yoke.
In 1889 he returned to Bulgaria and settled in Sofia, publishing Under the Yoke in the Collection of Folklore, Science and Literature published by the Ministry of Education. In 1895 he celebrated twenty five years as an author. He was ridiculed for his novel New country, a continuation of Under the Yoke. Critics described it as a bitter, negative work. In 1897 he accepted an invitation to serve as Minister of Education.
Vazov survived the Balkan Wars and World War I. He died in 1921 of heart failure, leaving everything he owned to a brother who was in poor circumstances. The government stepped in however, nationalizing all of Vazov's property without compensation for his family.
Vazov's birthplace in Sopot, the family home built by his grandfather, burned down during the Russo-Turkish War of Liberation. The occasion of his seventieth birthday gave rise to the idea of rebuilding the house, and plans were made to raise funds for the task. Vazov provided drawings to help in the reconstruction. Work began in 1931 and in 1935 the completed house was dedicated as a museum.
The works of Ivan Vazov form a basis for any study of Bulgarian national literature. Since he lived and wrote both before and after liberation, his writings are divided into two historical epochs: the Bulgarian National Awakening and Post-Liberation Bulgaria.
His major themes include love of country, the Bulgarian struggle for freedom, the memory of Bulgarian patriots, defense of Bulgarian culture, and worship of Bulgarian natural beauty. He worked in all major genres and translated many foreign authors into Bulgarian.
His best known works include:
Priaporets and Gusla (BG: Приапорец и Гусла) (poetry)
Epic of the Forgotten (BG: Епопея на Забравените)(poetry)
Under the Yoke (BG: Под Игот) (novel)
Unmerciful-Unwanted (BG: Немили-недраги) (novel)
Uncles (BG: Чичовци) (novel)
New Country (BG:Нова земя)(novel)
Under Our Heaven (BG:Под Нашето Небе) (novel)
The Empress of Kazalar (BG:) (novel)
Songs of Macedonia (BG:Песни от Македония) (novel)
It Will Not Perish (BG:) (novel)
Vagabonds (BG:) (play)
Borislav (BG: Борислав) (play)
Ivaylo (BG: Ивайло) (play)
Useful Links:
Ivan Vazov House Museum (Sopot) Bulgarian only
Ivan Vazov Works Bulgarian only
[ad#Amazon Books bulgarian history, bulgaria]
[ad#Google Adsense Bulstack 468×60 post banner]