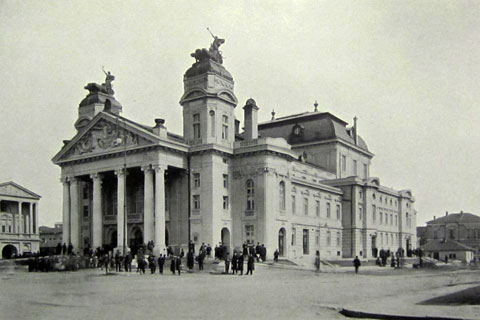 The Ivan Vazov National Theatre is one of the truly distinguished Sofia buildings of the early 20th century. Built by the members of the Tear and Smile (BG: Salza i Smyah) drama troupe, it was called simply the National Theatre. Its neoclassical style is timeless; it remains one of the most popular buildings in Sofia.
This is a picture of what it looked like in 1910, taken from the garden in front of the theatre. Rakovski Street can be seen in the background.
Notice how much space there is around the theatre in the picture. At that time there was still a lot of open land around the new municipal buildings going up. The plan of the main buildings had been laid out with ample room between them, which would eventually be filled up as the demand for more built up space increased over the years.
See what the same scene looks like today: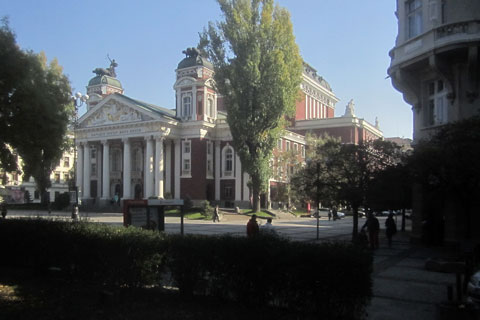 The garden is still kept, but is now filled with mature landscaping. Buildings now hem it in on all sides. Notice the large Ministry of Defense building to left of the theatre in the photo, and the other buildings around it on all sides.
The building still keeps much of its original appearance, despite being severely damaged by fire in 1923 and later suffering major damage from the bombing campaigns against Sofia in WWII. The color scheme is reversed, now with a dark facade and light trim.
The theatre was named for Ivan Vazov, the patriarch of Bulgarian literature, in 1982. He lived on Rakovski Street in a house just beyond the view of the pictures, only steps away from the theatre when it was completed. Today the home is a house museum dedicated to his life and work.
Read more about the life of Ivan Vazov.
See more images of the Ivan Vazov National Theatre: