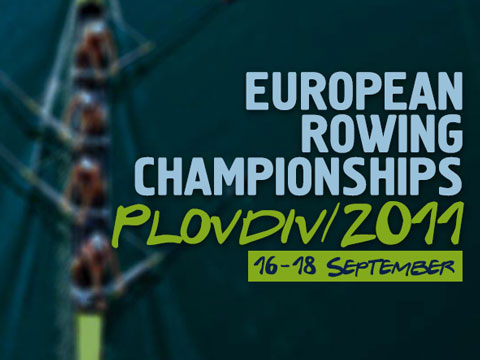 The 2011 European Rowing Championships will be held in Plovdiv, Bulgaria, from 16 to 18 September 2011. Four hundred competitors from 29 nations will gather to compete for honors in all 14 Olympic boat class events.
The competition should be exciting, with repeats of many match-ups from the recent world championships.
Bulgarian Competitors
Bulgaria has entered boats in six events, including the Men's Pair (M2-), Women's Pair (W2-), Men's Single Sculls (M1x), Men's Double Sculls (M2x), Women's Single Sculls (M1x), Lightweight Men's Double Sculls (LM2x).
The registered participants are:
W2-
(b) BONCHEVA Kristina
(s) RUSINOVA Luiza-Mariya
M2-
(b) GEORGIEV Teri
(s) VASILEV Kristian
M2x
(b) VASILEV Nedelcho
(s) GOSPODINOV Lyubomir
W1x
(b) GESHEVA Teodora
M1x
(b) BOZHILOV Georgi
LM2x
(b) KARAIVANOV Zlatko
(s) VITANOV Vassil
Venue
The regatta course is part of a major athletic center located in the center of the city of Plovdiv, Bulgaria. It is an artificial canal, 2300 meters long, running parallel to the Maritza River. It was first opened for competitive events in 1988. It has many permanent facilities and can hold eight training and seven racing lanes. The regatta course has hosted the 1993, 1998, and 2007 Balkan Rowing Championships as well as the 1999 World Rowing Junior Championships.
Organization
The European Rowing Championships is open to 43 European national rowing federations, including Israel. This event is held annually and is, this year, in its fifth year of reinstatement. The Championships are managed by the European Rowing Management Board consisting of seven members, four elected by the national federations and three appointed by the FISA Council. A General Assembly of the member national federations is held each year at the Championships to attribute future events and discuss the rules and regulations of the events.
Follow the Competition Online
Race reports will be available on www.worldrowing.com.
Sunday's A Finals shall be streamed through the world rowing website.
Information:
2011 European Rowing Championships
9 Georgi Tringov Street
4003 Plovdiv
Bulgaria
(t) +359 (0)32 908 900