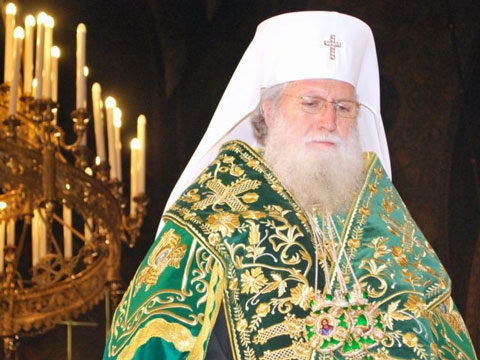 Patriarch Neofit (BG: Патриарх Неофит) is the third man to serve as Patriarch of the Bulgarian Orthodox Church since the restoration of the office in 1953.
Early Life and Education
Patriarch Neofit was born Simeon Nikolov Dimitrov on 15 October 1945 to a religious working class family in Sofia.
He completed his primary education in 1959, then entered the Orthodox Seminary in Sofia, where he graduated in 1965. He continued his theological education at the St Clement of Ohrid Orthodox Academy, graduating in 1971, and from 1971-73 acquired a further specialization in Church Singing from the Orthodox Academy in Moscow.
Ecclesiastical Career
Upon his return from Moscow, Demitrov was appointed Lecturer of Church Singing and Choir Director at the Orthodox Academy in Sofia. In 1977 he was promoted to Senior Lecturer of Eastern Church Singing and Liturgical Practice.
Meanwhile, he was ordained a monk on 3 August 3 1975, in Troyan Monastery, taking the spiritual name Neofit. Shortly thereafter he was named Director of the Sofia Priests Choir. On 25 March 1976 he was ordained as a hieromonk, with Patriarch Maxim officiating. The Patriarch elevated him again in 1977 to the office of Archimandrite in the Holy Sabbath Cathedral Church in Sofia (BG: Св. Неделя).
From 1981 to 1985 he served as coadjutor (something like a right hand man) to the Sofia Metropolitan.
On 8 December 1985 Neofit was elevated to the rank of Bishop with the title Levkiiski (BG: Левкийски), and appointed second vicar to the Sofia Metropolitan.
On 1 December 1989 he was chosen Rector of the Orthodox Academy, and upon restoration of the school as a Faculty of Sofia University "St. Clement of Ohrid," he was named Dean of the school.
In January 1992 he was appointed Chief Secretary of the Holy Synod of the Bulgarian Orthodox Church. In that role he played a major part in the negotiations to free the Synod offices from occupation during the church schism.
On 27 March 1994 he was chosen and in April 1994 installed as Metropolitan of Dorostol and Cherven. When the Metropolitan was divided later he was named Metropolitan of Ruse.
Neofit was elected Patriarch of the Bulgarian Orthodox Church on 24 February 2013, prevailing over two other candidates in a run-off election by the national church council of the Holy Synod. In addition to the Patriarchal office he bears the title Metropolitan of Sofia.
Awards
Doctor Honoris Causa, Sofia University "St. Clement of Ohrid" (2008)
The Order of Saints Cyrill and Methodius (2010)
Involvement with Bulgarian State Security
Neofit was one of 11 Metropolitans who had close ties to the secret services during the Communist era. In an interview with the Bulgarian News Agency Neofit said he felt no guilt about complying with the law by informing the services of meetings held abroad. "This in no way prejudiced those with whom meetings and conversations had been held," he said.
His dossier contained 16 pages of notes, including the following description of him:
"Highly religious, attached to the church, Bishop Neofit has modeled himself as one of the top young conservative clergy defending the old traditions of the Orthodox Church. Particularly active in expanding the spread of religious activities after the beginning of the processes of reconstruction and democratization in Socialist countries, and especially after the USSR celebration of the 1000th anniversary of the Russian Orthodox Church. Began to openly advocate for full independence and non-interference by the state in religious activities and church governance."
Quotes by Patriarch Neofit
(from his investiture speech – 24 February 2013)
"The mission of the Patriarch requires denial of anything that would impede it, proclamation of loyalty to God and obedience to his holy will, willingness to follow Christ who humbled himself by being obedient unto death, even death on the cross."
"I find inspiration in those bright personalities and passionate patriots in our history — patriarchs, saints and confessors — who have always acted as children of the light. Patriarch Maxim, whose successor I was elected today, left a shining trail, and I bow my head in homage to his life and work."
"Heavy is the cross that God and our Holy Church are giving me today, but in God's words I trust and ask him for strength, for when I am weak, then am I strong."