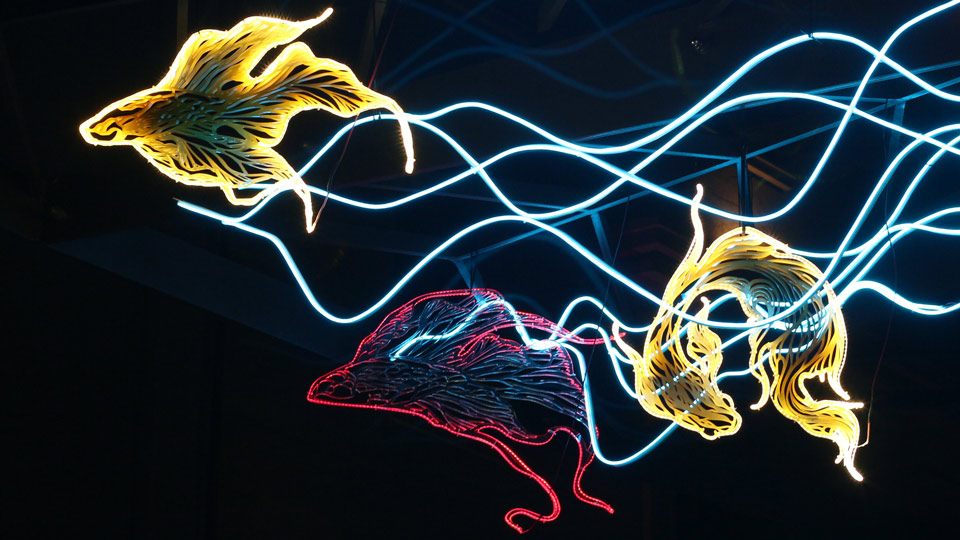 Sofia, Bulgaria — Light Beyond the City, a Bulgarian/Chinese public art exhibition can be seen at Slaveykov Square through 14 March 2021. The project includes artists and graduate students from the China Academy of Art in Hangzhou, China, and the National Academy of Art in Sofia, Bulgaria.
Lantern Art
Lantern Art is a traditional handicraft that originated in China centuries ago. It began during the Western Han Dynasty (206 BCE–25 CE), and has flourished into one of the most popular and instantly recognizable symbols of Chines Culture.  The round, red lantern can be seen around the world wherever Chinese culture is celebrated. Today, the Chinese Lantern Festival is an important fixture in annual Chinese New Year festivities.
Lantern Art reflects the ingenuity and originality of the Chinese nation. It integrates abstract compositions, metaphorical sculptured objects, realistic paintings, composite decoration and light moving mechanisms. The art of making lanterns reflects the broad spirit of Chinese culture with strong national characteristics. It is an art form that integrates art, culture and aesthetics and has a vibrant national color.
Over time, lantern art has incorporated new forms and materials. As long ago as the seventh century, lanterns appeared made of jade and glass. Today, lantern artists use plastic, metals, and many other modern materials that add to the creative possibilities of lantern art.
Light Beyond the City
This thematic exhibition incorporating site specific artworks and undergirded by the current state of thought about the traditions based on and inspired by light as an artistic medium. The exhibition inhabits outdoor public space, highlighting traditional art lighting techniques combined with contemporary art forms.
Light Beyond the City marks a milestone in art appreciation, as the first public art exhibition related to the concept of lanterns and lighting to be put on in Bulgaria.
Inquiring into personal feelings and contemporary life, artist participants  have created their own interpretation of the "image" of a traditional lantern. The works on display, hold as a basic tenet the understanding that artists work with meaning, not only with materials, shapes, colors and techniques, and related new technologies.
Given the temporary nature of this show and the aesthetic influence of light as an art form, the exhibition is intended to incite both a new artistic vision and unique social activity within this public space. These artworks draw public attention, engage and challenge the audience, evoke interaction with the public, engage spectators, and promote artistic dialogue within the Slaveykov Square physical environment.
The exhibition is shown during the Chinese New Year Festival starting in February, 2021. Inspired by tradition and lighting, the organizers hope to draw out the beauty of the city's night scenes, create a new artistic vision of the place and bring different ways of public engagement such as entertainment, education, and unadulterated joy in light.
---
Exhibition Details
The Exhibition is showing at Slaveikov Square from 12 February to 14 March 2021.
Institutions and Partnerships
Main Organizer:
China Cultural Center in Sofia
Sofia Municipality
Co-Organizers
China Academy of Arts, Hangzhou, China
National Academy of Art, Sofia, Bulgaria
Sponsor:
Huawei Technologies Bulgaria EOOD
Host:
Embassy of the People's Republic of China in the Republic of Bulgaria
Artistic Team:
Artistic Directors and Curators
Zheng Jing, Assadour Markarov
Chief Assistant to the Curators
Ren Zhe
Curatorial Team / Bulgaria
Dessislava Mincheva
Maria Ganeva
Mihaela Kamenova
Participating Artists:
Zhang Bin
Wu Hangye
Wushan Yanru
Jia Tongtong
Hu Jianshu
Liu Zhaodong
Wu Xueqian
Tang Ying
Li Shiqing
Xia Yu
Liu Wanjun
Chen Shiting
Xie Junyl
Diana Vasileva
Elizar Milev
India Karmova
Krasen Troanski
Yane Gadzhev
While in Bulgaria for the Light Beyond the City, You Might Be Interested in These Other Happenings