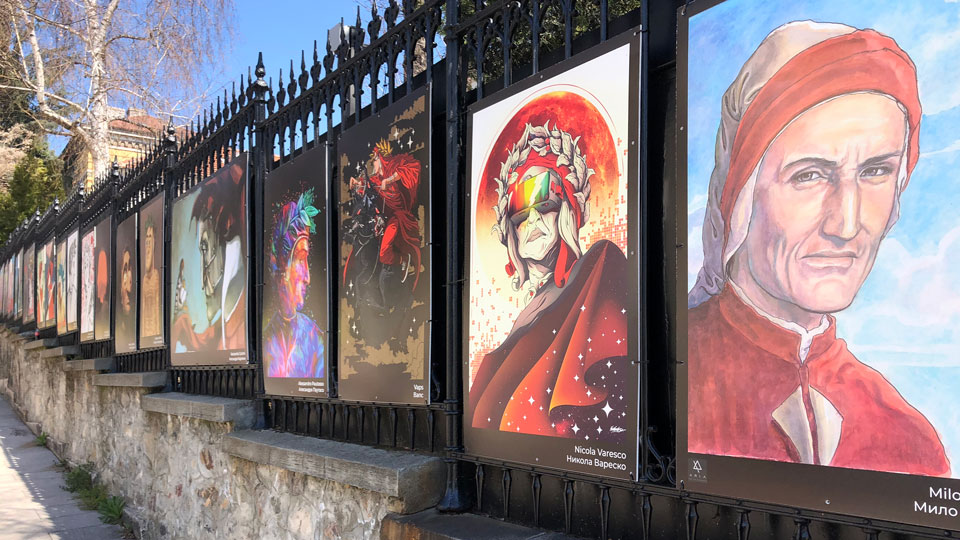 Sofia, Bulgaria — The Italian Cultural Institute of Sofia kicked off celebrations for the 700th anniversary of Dante's death on 25 March 2021 with the collective exhibition Dante Plus 700: Sofia Edition outside the Italian Embassy at Shipka #2. The event was produced in collaboration with the Italian Embassy in Bulgaria and the BONOBOLABO studio of Ravenna, Italy, where Dante lived for the last few years of his life. He died there in 1321.
The exhibition was conceived by Marco Miccoli and is based on the Dante Plus 700 project, a multimedia effort commemorating 700 years since the death of the poet. The exhibition brings together portraits by over 30 different artists embracing different styles and techniques. The diverse collection reimagines Dante through the use of tempera painting, geometric drawing, cartoon style and even three dimensional art. Images accompanied by the ARIA logo are visible in augmented reality using the novel ARIA Platform free mobile app.
The exhibition is printed on large panels displayed on the outer gate of the Embassy building along Paris street in sofia, in front of the entrance to the Italian Cultural Institute.
Participating Artists include Ale Giorgini, Alessandro Pautasso, Andrea Dalla Barba, Bomboland, Camilla Falsini, Camilla Garofano, David Sossella, Davide Barco, Davide Bart Salvemini, Davide Bonazzi, Elisa Seitzinger, Francesco Poroli, Il Pistrice, Ilaria Urbinati, Lorenzo Gritti, Marco Bonatti, Marco Goran Romano, Mauro Gatti, Max Petrone, Michele Bruttomesso, Resli Tale, Rita Petruccioli, Stefano Babini, and Van Orton Design.
To find out more, visit the webpage of the Italian Cultural Institute.
---
Dante Plus 700 Exhibition Details
Dante Plus 700: Sofia Edition
Open Air Art Exhibition
Along the pedestrian zone on Paris Street (see map)
ul. Paris 2B
Sofia, Bulgaria
25 March – 25 June 2021
After Viewing Dante Plus 700: Sofia Edition, You Might Be Interested in These Other Happenings Around Sofia