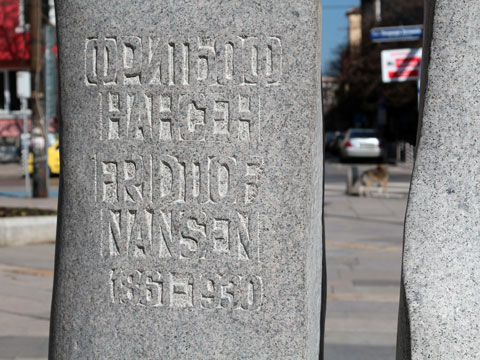 Fridtjof Nansen (1861-1930) was a prominent Norwegian academic, polar explorer, humanitarian and statesman, famous in the Balkans for his work on behalf of displaced persons in the wake of the Balkan Wars, World War I, and the Greek-Turkish War.
A monument in his memory stands at the north end of the park in front of the National Palace of Culture in Sofia, at the top of the street that bears his name.
As high Commissioner for Refugees, he introduced several innovations to ease the plight of displaced persons and to facilitate the reunification of families separated by war. One of his innovations was the Nansen Passport, a document for stateless persons recognized in over 50 countries. Possession of a Nansen Passport helped millions of displaced persons return to their home countries and find lost family and friends after more than a decade of violence in the region. Locally, he helped many Bulgarian deportees from Western Thrace come to Bulgaria after the 1919-1922 Greek-Turkish war. Later he helped tens of thousands of Armenian refugees settle in Bulgaria.
Nansen visited Sofia in 1922.
See other images of Bulgaria Square and the National Palace of Culture :