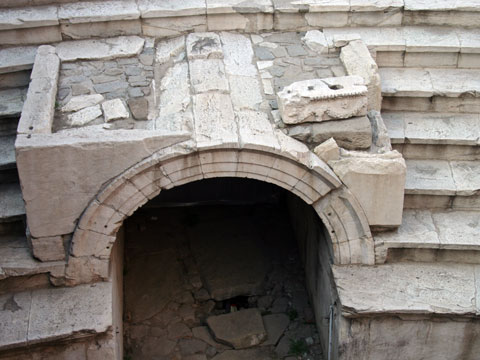 The Ancient Stadium of Philippopolis was built in the early 2nd century AD during the reign Emperor Hadrian. It is situated in the Northern part of the fortified city, following the natural terrain between Taksim Tepe and Sahat Tepe. The stadium is u-shaped, approximately 240 meters long and 50 meters wide, and could seat up to 30 000 spectators.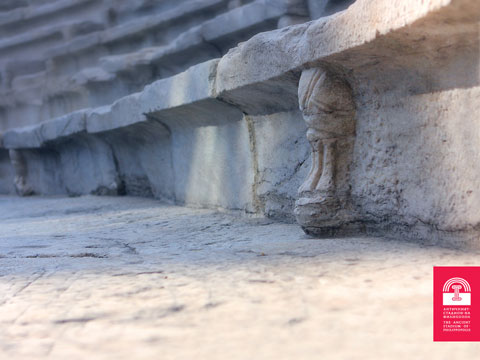 There are fourteen rows of seats interrupted by stepped aisles from top to bottom at intervals along the structure. The seats are made of solid marble blocks 40 cm high and 75 cm wide, with stylized lion paw decoration.
Archaeological excavations have uncovered marble facades, backrests, vaulted passages and the royal box. Parts of the 2nd century wall and a 4th century aqueduct have also been found. Some seats have with Greek inscriptions, providing evidence for the classical equivalent of box seats for the well-to-do of the day.
History of Excavation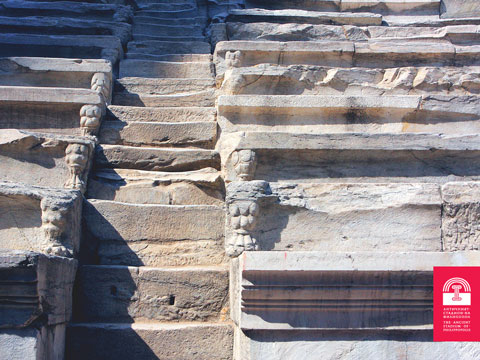 The Ancient Stadium of Philippopolis was discovered in 1923. During the years excavations and archaeological research have been led by D. Tsonchev, L. Botusharova, and M. Martinova-Kjutova. Sections of the seating rows are preserved and exhibited in the basement floors in some of the buildings along today's Knyaz Alexander I Battenberg Street. Decorative pieces and other artifacts are on display in the Plovdiv museum. In 2004 five rows of seats, a staired aisle, a section of the track and a draining canal were uncovered during reconstruction work at the former Hristo Botev cinema.
Urban Archaeology Project
In recent years the city has undertaken a complete renovation and expansion of the site as a prototype for developing tourist opportunities through urban archaeology. Since the Ancient Stadium of Philippopolis is located under the main pedestrian street of Plovdiv, it is an ideal structure for such an effort. New exhibits opened to the public in April 2012.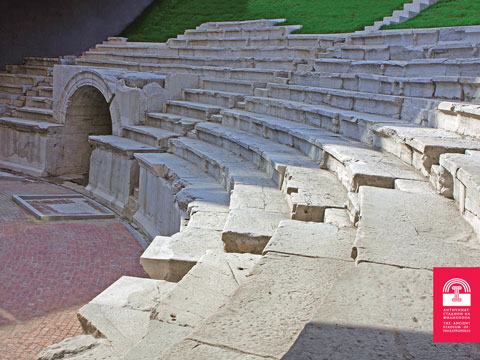 The northern part of the stadium is found at Dzhumaya Square. There you can dive underground to walk at the original level of the Ancient town.
The space open for visitors includes a part of the track, a semi-circular portion of the spectator seats (sfendona) and a panoramic wall with hypothetical reconstruction of the missing space of the Ancient stadium.
At the underground level there is also a presentation center, designed for public functions related to the dissemination of information about the Ancient stadium.
Some of the discovered elements of the Stadium are identified along the main street of Plovdiv.
Access by visitors (including disabled) is organized along the axis of the ancient street – starting at the glass windows, fully open to the north open-air archaeological space along the vaulted passage and the link with the southern open-air space.
Detailed information, maps, and explanations can be found at the excellent website developed for the project.
Ancient Stadium of Philippopolis Information:
Ancient Stadium Plovdiv
Dzhumaya Square
400 Plovdiv
Bulgaria
(e) info@antichen-stadion-plovdiv.bg
See additional images of Plovdiv: