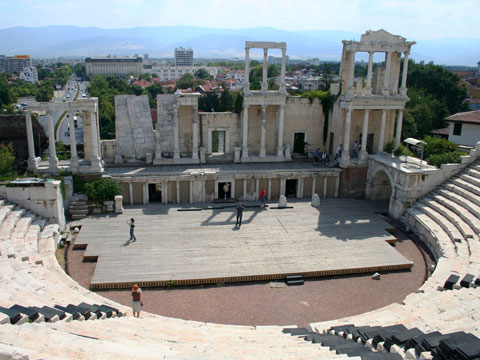 Ancient times come to life when the 4th annual Ancient Philippopolis Festival inhabits the Plovdiv Old Town from 24-26 May. Outdoor performances reenacting everyday life will demonstrate how the city lived centuries ago.
Scenes will include a slave market, battling gladiators, religious rituals, poetry readings and Roman theatre.
Activities and shows are suitable for all ages. Make it a family outing!
While you're in the area, why not visit the newly renovated Ancient Stadium in downtown Plovdiv? The city recently completed a renovation of the site, making it a model for display of urban archaeology. Definitely worth a look.
Ancient Festival Programme:
24 May Festival Opening on Nebet Tepe
25 May
15:00 Slave Market
15:30 Gladiator Fight
16:30 Religious Ritual
17:30 Ancient Poetry Reading
18:00 Roman Theatre
26 May Living History Outdoor Museum
Demonstrations of cooking and everyday life.
13:00 Roman Cuisine on Nebet Tepe
See images of Plovdiv: