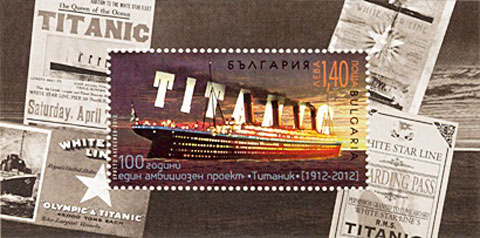 The Bulgarian Post has issued a souvenir sheet and stamp commemorating the 100th anniversary of the sinking of the RMS Titanic on 15 April 1912.
The Titanic sank after striking an iceberg in the North Atlantic on her maiden voyage from Southampton, England to New York City. At the time of its launch the Titanic was the largest ship ever built, and its sinking was one of the greatest peacetime maritime disasters in history. One thousand five hundred fourteen people lost their lives, including thirty eight Bulgarians.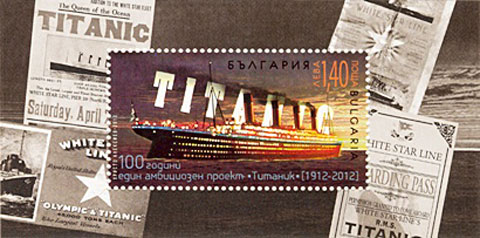 The stamp depicts a proud, fully lit Titanic sailing into the sunset, with steam billowing from her stacks. The side of the ship is awash with the glow of the setting sun. The word Titanic is etched in block letters above the ship, following the perspective line of the boat sailing into the distance. The legend reads:
one ambitious project•Titanic•[1912-2012]
The postage stamp, issued as a miniature sheet with decorative background framing a single stamp, was designed by Hristo Aleksiev, a popular and prolific artist for the Bulgarian post.