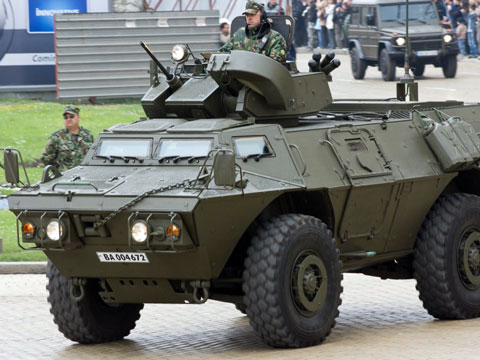 Bulgaria celebrates the valor of their armed forces on 6 May, the Feast Day of Saint George the Victorious. Bulgarian Armed Forces Day, also called the Day of the Bulgarian Army, Armed Forces Day, and, more informally, Bravery Day, was instituted by a royal decree from Prince Alexander of Bulgaria on 9 January 1880. It was reaffirmed by a decision of the Bulgarian Cabinet in 1993 and has been celebrated as a National Holiday since 1998.
Bulgarian Armed Forces Day Celebrations
The main celebration is a parade in front of the former royal palace on Battenberg Square in Sofia. It is traditionally a show of military might, with soldiers, vehicles weapons and bands marching to impress the assembled crowds. Aircraft join in from overhead. Now that Bulgaria is a member of both the European Union and NATO, foreign forces from many different countries march in the parade as well.
The parade route runs up the yellow cobblestone street towards Nevsky Cathedral, where soldiers mingle with the crowd and pose for pictures after the procession has ended. It is not uncommon for soldiers in uniform to pose with strangers on request.
Parades, ceremonies and church services are held throughout the country, especially around military bases and other significant installations.
Why Celebrate on 6 May?
Sharing a celebration day with Saint George is fitting for the armed forces, who are charged with protecting the nation. Saint George is famous for his bravery. Legend tells us that George came to the aid of a kingdom in need, rescuing their princess and slaying a fierce dragon who had terrorized the countryside.
George was depicted as a soldier as early as the 7th century. Today he commonly appears in icons mounted on a white horse, stabbing a dragon trapped under hoof.
George is the patron saint of shepherds and farmers, easily representative of common people who, like people today, so often depend on the military for protection.