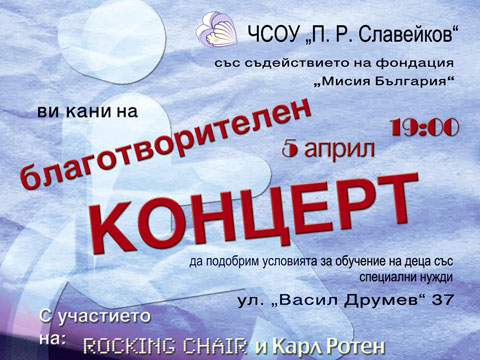 A benefit concert will be held on Thursday, 5 April, to support the Slaveikov School, a private Christian school in Sofia.
The concert will feature several acts, including Rocking Chair, with special guest Carl Roten, the Good Music Society, and Victor Makarov and the No Name Band.
Tickets are available at the door and at the following locations:
CLC Bookshop (45 Tsar Simeon Street)
Veren Bookshop (1 Slaveikov Square)
Metra Bookshop (26 Veslets)
Cost is 6 leva for adults and 3 leva for kids.
If you can't make the concert you can still support the school in other ways.
Information:
P.R. Slaveikov School
3 Sredorek Street
Sofia 1619
Bulgaria
(t) +359 (0)894 480 782
(e) slaveikov.school@gmail.com