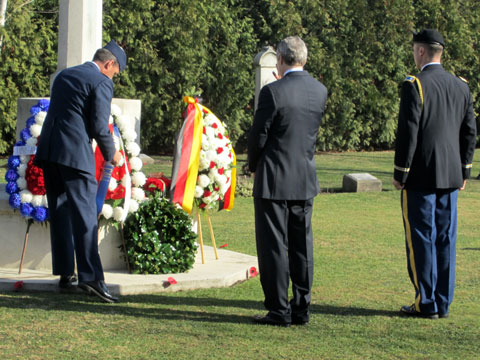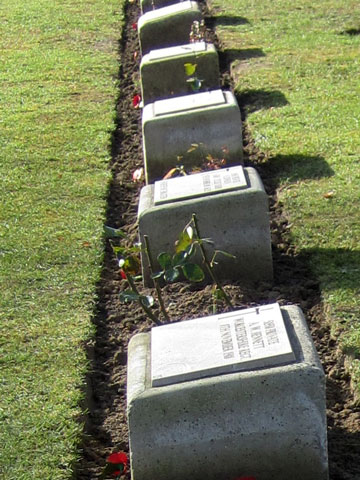 There are two British Commonwealth war cemeteries in Bulgaria, located in Sofia within the Sofia Central Cemetery, and at the Plovdiv Central Cemetery. The cemeteries preserve the memory of 256 individuals, including 240 named Commonwealth war dead, 3 unidentified soldiers, 1 other nationality, and 12 non-war burials.
Learn about Remembrance Day services
Commonwealth War Cemeteries in Bulgaria

Sofia Central Cemetery
The Commonwealth War Cemetery contains the graves of Commonwealth servicemen who dies as prisoners of war or while serving with the occupying forces following the Bulgarian capitulation in September 1918. The original cemetery contained 62 war burials, most of which were relocated from the Dupnitza Cemetery, the Radomir Cemetery and Military Cemetery, and the Sofia Central Cemetery. Additional graves were brought in from the Varna Protestant Cemetery in 1955 and the Rousse British and Jewish Cemeteries in 1960.
The Second World War burials are mainly of airmen who died in raids over Bulgarian towards the end of the war. These airmen served in the Royal Air Force and also the Royal Australian Air Force, the Royal Canadian Air Force, and the South African Air Force. There is also a special memorial to Major W. F. Thompson, Royal Artillery, a popular war hero in Bulgaria, who died in June 1944 while helping Bulgarian partisans. His grave, at Letakovo, could not be marked or permanently maintained. The Sofia War Cemetery now contains 160 First World War burials and 28 from the Second World War. There are also 12 non-war civilian and service graves.
Plovdiv Central Cemetery
The Commonwealth servicemen buried in the Plovdiv Central Cemetery died either as prisoners of war or while serving with the occupying forces. It was formerly called the Philippopolis Holy Archangel Cemetery and was established after the armistice through the concentration of graves from the Philippopolis Protestant Cemetery, Philippopolis Catholic Cemetery, Karagatch Protestant Cemetery, Kostenets Banya British Cemetery, Kurtova Konare Municipal Cemetery, Mustafa Pasha British Cemetery, and Tatar Pazardzik Protestant Cemetery. The cemetery contains 55 graves from the First World War.
Commonwealth War Graves Commission
The War Cemeteries are maintained by the Commonwealth War Graves Commission, established in 1917. The CWGC has constructed 2500 war cemeteries and other plots in about 150 countries, commemorating over 1,000,000 Commonwealth war dead.
See photos of Remembrance Day ceremonies in Sofia: