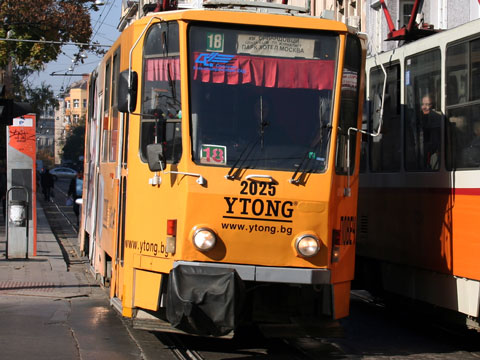 YTONG lightweight bricks are ubiquitous on building sites around Bulgaria, but I wouldn't have thought too many people go down to the construction yard to pick them up for home projects. Of course Bulgarians are DIY people, so perhaps it pays to use a branded tram car after all.
What began as a building materials innovation in Sweden over 80 years ago has today become the world famous brand YTONG.
The story of YTONG began in 1923, when Architect Johan Axel Eriksson at the Royal Institute of Technology in Stockholm managed to produce an extremely porous material with superior insulation and fire resistance properties. The material was patented in 1924.
The licence for the production was granted in 1928 and contractor Karl August Carlen started the production of the aerated autoclaved concrete (AAC) in 1929. The first branded building material in the world combines outstanding insulating properties and easy workability associated with wood together with solid construction and rot and fire resistance.
The product was named Yxhult Anghardad Betong: "Yxhult" is a small Swedish town and "Betong" is the Swedish word for concrete. A short version combing the first and last syllables gave us the name we know today, YTONG.
In Europe today there are more than 100 production sites in 18 countries, including two in Bulgaria.
Learn more about YTONG at their company website.
See the other trams we have spotted on the streets of Sofia: