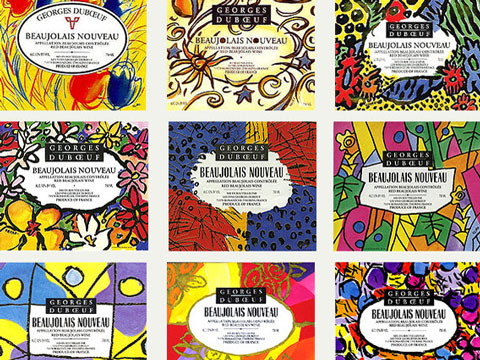 It's Beaujolais Nouveau Day! Wine enthusiasts around Bulgaria join in the fun on 17 November as the world celebrates the release of the 2011 vintage. Unique among wines, Beaujolais Nouveau is light and fruity, meant to be consumed while young. The celebration began more as a marketing gimmick than anything else, but over the years has grown into a celebration of wine, friends and happiness.

Learn more about Beaujolais Nouveau on BULstack
Up until a few years ago, you had to look hard to find Beaujolais Nouveau in Bulgaria, but this year it seems like everyone wants in on the act. Wine bars, retailers and even restaurants have events and promotions planned. Here are the places we have heard about:
In Sofia, you can celebrate the arrival of the new Beaujolais Nouveau at Trovatore Wine Bar, Vintage Wine Bar, Le Verre de Vin and at the following restaurants: Bodega Tapas and Wine, Brasserie, Enoteca Uno, Niagara, and Spaggo.
In Varna, you can celebrate at the Kose Wine Bar in the Sea Garden, the Varna Wine Club at the Darsalas Wine Cellar, and at the following restaurants: Bodega Tapas and Wine, DiVino, DiWine, Prodadena Nevesta,
You can also enjoy a celebration of french cuisine all month long at Fancy restaurants everywhere.
If you want to put on a party of your own, you can purchase the new Beaujolais Nouveau at all Casa Vino stores. Check with your local shop for details.
Contact Details:
Bodega Tapas & Wine
17 Boris Stefanov
Studentski Grad
Sofia
(t) +359 (0)898 638 003
9 Slivnitsa Boulevard
Varna
(t) +359 (0)893 614 890
(e)restorantvn@abv.bg
Brasserie Restaurant
3 Raiko Daskalov Square
Sofia
(t) +359 (0)2 980 0398
(e) brasserie@mail.bg
CASAVINO
See the website for locations, directions and contact information
Kose Wine House
Horizon Complex
Sea Garden
Varna
(t) +359 (0)52 389 146
(t) +359 (0)898 683 743
(e) kose2005@abv.bg
(fb) kose svetla
(skype) winehousekose
DiVino Ristorante
11 Neofit Rilski Street
Varna 9000
For reservations:
(t) +359 (0)52 65 45 17
(t) +359 (0)898 47 74 72
For catering:
(t) +359 (0)887 29 72 52
(e) divino@mail.bg
DiWine Restaurant & Wine Cellar
2 Shkorpil Street
Varna 9000
(t) +359 (0)52 60 60 50
(t) +359 (0)878 60 60 50
(t) +359 (0)885 247 873
(e) office@diwine.bg
Enoteca Uno Restaurant
45 Vassil Levski Boulevard
Sofia
(t) +359 (0)2 981 4372
(t) +359 (0)2 981 4613
(t) +359 (0)889 80 19 20
(f) +359 (0)2 981 4373
(e) enoteca@uno-sofia.com
Fancy Restaurants
Find a restaurant near you
Le Verre de Vin
Sopharma Business Towers
Sofia
(t) +359 (0)878 62 61 84
(e) leverredevin@hotmail.com
Niagara Restaurant
2 Doiran Street
Krasno Selo
Sofia
(t) +359 (0)2 958 28 81
(t) +359 (0)899 863 377
Prodadena Nevesta Restaurant
1 Krali Marko Street
Varna
(t) +359 888 641 440
Varna Wine Club
at the Darzalas Wine Cellar
33 Slivnitza Boulevard
Varna
(in the Cherno More Hotel)
(t) +359 (0)899 929 061
(t) +359 (0)52 60 99 14
(t) +359 (0)52 60 60 84
(e) club@wine-varna.com
Spaggo Wine Bar and Restaurant
48 Sveti Naum Street
Lozenets
Sofia
(t) +359 (0)2 963 1385
(t) +359 (0)2 964 0345
(t) +359 (0)2 964 1205
(t) +359 (0)886 030 444
Trovatore Wine Bar
23 Medzhur Street
Lozenets
Sofia
(t) +359 (0)888 888 228
(t) +359 (0)886 661 466
(t) +359 (0)888 897 830
(e) bar@trovatore23.com
Vintage Wine Bar
8 George Washington Street
Sofia
(t) +359 (0)899 962 903