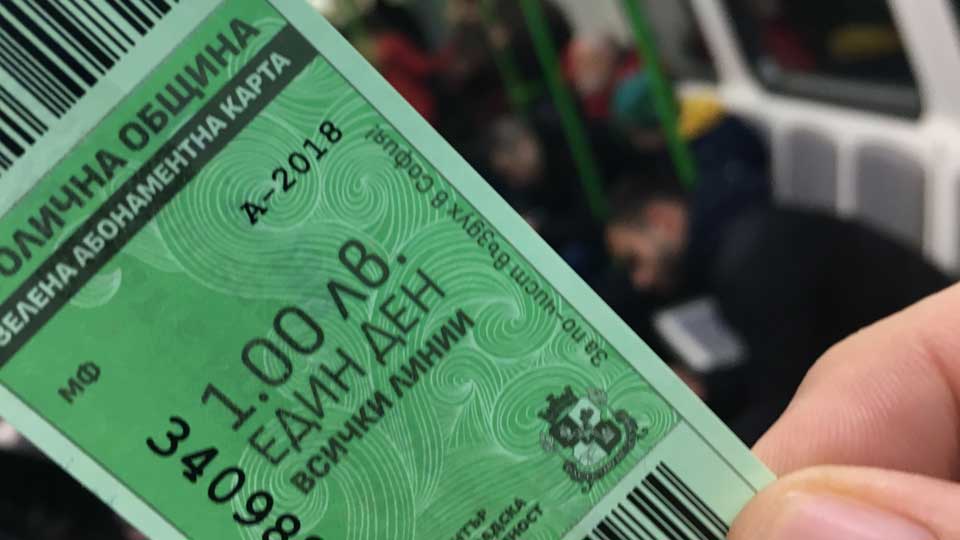 4 December 2018 — Sofia, Bulgaria.  Today is a Green Ticket Day on Sofia Public Transport. Riders pay just 1 lev for a one day pass valid on all buses, trams, trolleys and the Sofia Metro, today only. The tickets may be purchased at any Sofia transport ticket sales point, at metro stations, and from bus and trolley drivers throughout the city. they are also available through the Sofia Metro mobile app.
The Green Ticket is an extraordinary measure taken by the Sofia municipality to combat air pollution on days when the air quality is especially poor. The strategy was approved by the Sofia City Council on 25 January this year. This Green Ticket Day was triggered by extremely high levels of air pollution in the city in recent days.
The city has expanded buffer parking for cars at main entry points to the city to improve access for commuters and to encourage system wide use. By making it easier to take part on the day, the city demonstrates in a very real way two additional important benefits of using public transport to move about the city: speed and convenience.
What is Green Ticket Day?
Green Ticket Day is a municipal response to the high level of fine particulate matter detected in Sofia city air. The Bulgarian capital has one of the lowest air quality ratings in Europe. Recent days have seen the level of particulates rise as high as five times the permissible norms.
In addition to offering a discount on public transportation, the city has stepped up inspections in districts with the highest pollution levels and asked drivers to avoid idling for longer than three minutes while waiting in traffic.
Green Ticket Day Public Warnings
People with chronic respiratory or pulmonary issues should avoid going outdoors. School and kindergarten directors have also been asked to keep their students inside.
Sofia Mayor Promotes Green Ticket Day
Sofia Mayor Yordanka Fandakova explained the promotion, its causes, and the actions of the city in a facebook post: