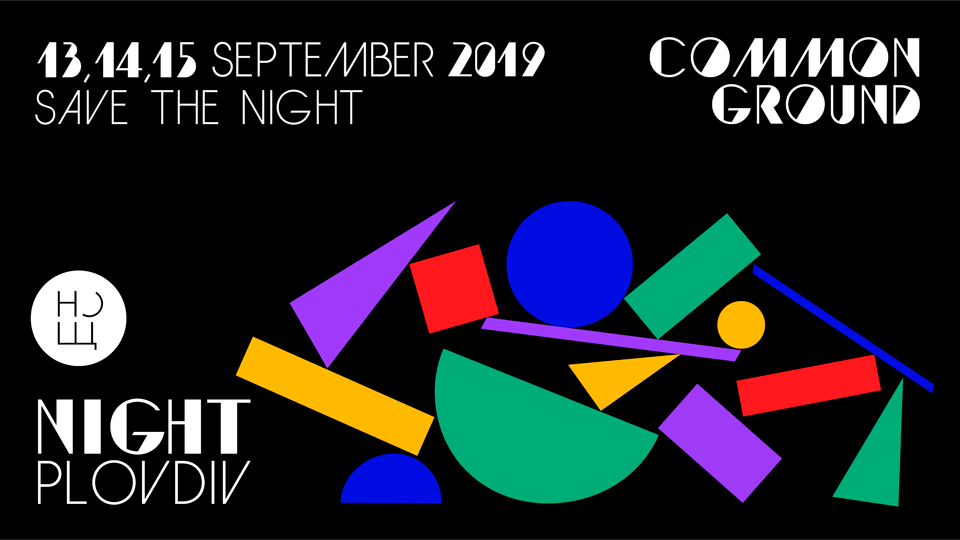 Plovdiv, Bulgaria — NIGHT/Plovdiv 2019, the 14th annual NIGHT festival, takes place in Plovdiv from 13-15 September. This year's festival is included under the European Union cultural umbrella "Plovdiv – European Capital of Culture 2019."
The NIGHT/Plovdiv 2019 Program Highlights
The NIGHT/Plovdiv 2019 program is divided into thematic sub-programs:
Museums, Galleries, Studios  Museums and galleries present special exhibitions put on just for NIGHT/Plovdiv 2019. Visitors are invited to explore local art studios to discover the workspaces where artists make the magic happen.
City and Culture  Community centers, theaters, libraries, religious buildings and cultural halls open their doors to host exciting cultural exhibitions, concerts, workshops and more!
Club and Music  Discover the energy of alternative club spaces for music and dancing.
Public Spaces Open air installations, performances, and exhibitions.
Little Night A selection of special events for the youngest art enthusiasts, including opportunities to learn about flight at the and dinosaurs in the Planetarium at the Natural History Museum.
Open Arts A selection of artistic projects under the motto COMMON GROUND, specially produced for NIGHT/Plovdiv 2019. Presented in cooperation with international cultural institutes and embassies.
Creative Media Lab For the first time this year a new module called Creative Media Lab, focused on digital arts, will take place in the Plovdiv Drama Theatre.
Imagining NIGHT/Plovdiv 2039
In a special request, the organizers ask all participants to consider the question: WHAT PLOVDIV DO I WANT TO LIVE IN OR VISIT IN 20 YEARS? Everyone is encouraged to write their wishes down and deposit them in specially designated places at the Historical Museum in Plovdiv. After NIGHT/Plovdiv 2019 is over, all of the wishes will be collected and donated to the Historical Museum, to be kept as a kind of time capsule carrying the spirit and hopes of 2019 into the future.
NIGHT/Plovdiv is a project of the Open Arts Foundation, and is supported by the America for Bulgaria Foundation. The international art program enjoys broad multi-national cooperation and support from the Embassies of Austria, Israel, USA and Sweden, the French Institute of Bulgaria, Goethe-Institut Sofia, Bulgarian National Culture Fund, Czech Centre Sofia, Polish Institute Sofia, Portuguese Cultural Center – Instituto Camoes, Sofia, EU Japan Fest, Plovdiv Drama Theatre and others.
---
NIGHT/Plovdiv 2019 Details
When: 13-15 September 2019
Where: Over 80 different venues around Plovdiv. See the map.
For more information:
OPEN ARTS FOUNDATION
36 Otets Paisii St.
Plovdiv 4000 Bulgaria
tel +359 885 78 73 06
Some of the Venues for NIGHT Plovdiv 2019
Absinthe House
Aeterna Gallery
Aleko Konstantinov Community Center
AMDFA: Blue School
AMDFA: Green School
Ancient Theatre
Balabanov House
The Blue House – House of Pavliti
Boris Hristov Cultural Center
Cat and Mouse Bar
Club Fargo
COFFEE&GALLERY CU29
Cyril and Methodius Secondary School
Danchov House
Dimitar Blagoev 2008 Community Centre
Dzhumaya Mosque
Elli's Please Cafe
Evangelical Church
Fluka – Austrian Cultural Pavilion
Gaillot Chocolate Factory
Hand Puppet and Drama Theatre
Hindlyan House
Ivan Vazov National Library
Kapana Gallery
L'Union de Paris Gallery
Labyrinth Gallery
Lucky Cinema House
Maria Luisa Club
Maritsa Yug Boulevard (Stage)
Marukyan Square
Mexican Art House
Museum of Aviation
Military Club
Nebet Tepe
Old Town Plovdiv – Eastern Gate
Otstreshta Co-working Space
Philippopolis Gallery
Plovdiv Artist Studios
Plovdiv City Art Gallery
Plovdiv Drama Theater
Plovdiv Natural History Museum
Plovediv
The Post Bar
Radio Plovdiv Square
Rakodelnitsata Shop & Studio
Regional History Museum
Resonance Gallery
Roman Stadium
Romfea Gallery
Saedinenie Square
Sariev Contemporary Gallery
Savremennik 1986 Community Centre
Shalom Aleyhem 1945 Community Centre
The Small Basilica
Simeonova Gradina (Viennese Pavilion)
Sofia T Antiquarian Bookshop
The Stables Bar
Stambolyan House
Stefan Stambolov Square
Sunshine House
Tea House
Temple Bar
Tobacco City Warehouse
U P.A.R.K. Gallery
Underpass (Kaparna/Old Town)
Veselin Rusev's Studio
Vino Culture
Vintage House
Yadroto in Kaparna
Zlatyu Boyadzhiev Gallery