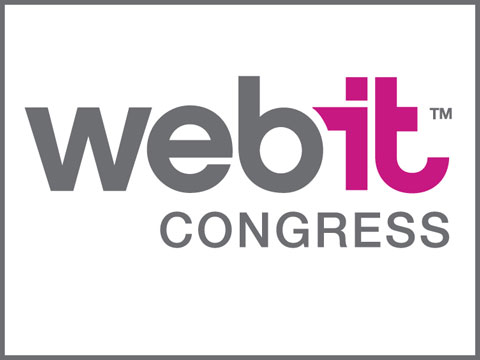 The Webit Congress 2011, one of Europe's premier digital marketing and IT industry events focusing on Central and Eastern Europe, is on in Sofia from 26-27 October. Top world class speakers, seven parallel conference tracks, the trade show exhibition, networking opportunities, the Webit Awards ceremony, and a complete program of social events make this the one IT conference you must attend.
This year the organizers expect over 5000 visitors from over 40 countries, more than any other business to business event in the region. Webit is the place to be if you want to grow your business, showcase your products and services, network with other great minds, or be inspired by senior industry leaders.
With this type of event expecting to receive thousands of visitors from around the world, it would be a good idea for the hosts to continually promote this type of occasion throughout the two days. For example, looking into how custom labeled water bottles, from places like Custom Water, (https://customwater.com/) can help to expand the reach of your event, could help the organization to receive more visitors in the following years. This could be beneficial for all parties involved.
Tempted to attend as an exhibitor? If so, be sure to bring along a variety of promotional materials. Brochures, flyers, and postcards are all excellent ways to ensure that you can get your company name out there by providing further information about your products and services as well as your contact information. For more information about designing and printing your own promotional materials, including a useful postcard template, head to the MyCreativeShop website.
Webit Congress 2011 Program
There are exciting things in store for attendees this year, including:
The Main Marketing Stage – the heart and soul of Webit Congress.
This is the place to hear visionary keynotes and action-provoking panel discussions on digital marketing and e-business. As usual, the Main Marketing Stage shall host 700 attendees who listen, exchange, network with colleagues from the region and learn from the best practices and professionals form CEE and the rest of the world.
DevCamp Workshops – the place for CEE's app developers, focused on the use of platforms and the growing mobile applications market.
Webit Congress launched the DevCamp Workshops to create an environment for direct communication between developers from CEE and platform owners. The world's leading OS and platform owners shall meet, share knowledge and expertise and present the future of their products in front of the top developers from Central and Eastern Europe.
StartUp Village Expo & Conference – aiming to help the startup companies in CE Europe to showcase, to network and exchange ideas with each other and to find and to be found by angel investors and venture capital funds.
Start Up Village is the new addition to Webit, specifically focused on the startup industry in Central and Eastern Europe. We see a rapidly evolving start up & entrepreneurial culture in the CEE region and growing potential for world class businesses in the digital space. StartUp Village invites entrepreneurs, investors, and digital industry professionals to share insights and experience the latest start up trends in CEE.
The Creative Lounge – a conference on the latest digital creative challenges and opportunities.
The Creative Lounge shall present a world class digital creative conference and experience, boasting award-winning creative minds and dynamic speakers.
A full day of pure inspiration for digital creative types, exploring the use of different formats, the creative process, the use of applications, video, and more.
A must-attend event for advertisers and creative minds from CEE.
Gamesville – Games are coming to Webit! The industry experts know how to have fun, but also know how to develop a business worth millions.
GamesVille is a new and exciting addition to the 2011 Webit Congress Programme and Eastern Europe's largest trade fair for interactive online entertainment. On 26 October in Sofia, Bulgaria, for the very first time Webit GamesVille will bring together the whole CEE online gaming ecosystem, from hosting games on GGServers to offline experiences. The event will feature a comprehensive selection of topics, covered by the online entertainment industry's top experts:
Online / Multiplayer gaming
Client/Browser games
Social and casual games
MMOG
Mobile games
Webit GamesVille will be all about bridging the gaps and providing a meeting spot where game developers, advertisers, distributors, retailers and investors can engage in new opportunities and shape the future of the industry.
MasterClass – Communities: When Personal and Corporate Values Merge
The Community Marketing Advanced Masterclass is for anyone who is thinking about starting a business or already has one and wants it to grow and thrive in the coming years. This class is suitable for experienced SEOs, e-marketing specialists, and CEOs who want to go deeper into cutting edge global marketing issues.
Will be led by Gillian Muessig, President & Co-Founder of SEOmoz, world leader in the field of search marketing software, resources & community. SEOmoz.org serves a community of 400,000 search marketers around the world.
Open Theater Seminars – FREE presentations, information sessions and discussions for all registered attendees of Webit.
The Open Theatres offer a free conference agenda on digital marketing and advertising by top technology and service providers.
Every registered visitor of the event is welcome to enter the Open Theatres for free. Seating is available on a first come , first serve basis.
Session topics include Optimal Strategy for Portals in Google's World: Fields of Cooperation and Competition, Shifting Eyeballs From TV to VoD in CEE Markets, the Turkish Digital Landscape and more.
Information:
Webit Congress 2011 Official Website
Webit Congress 2011
53-55 Vladislav Varnenchik Blvd, 3rd floor
Varna 9000
Bulgaria
(t) +359 (0)52 611 800
(f) +359 (0)52 611 900