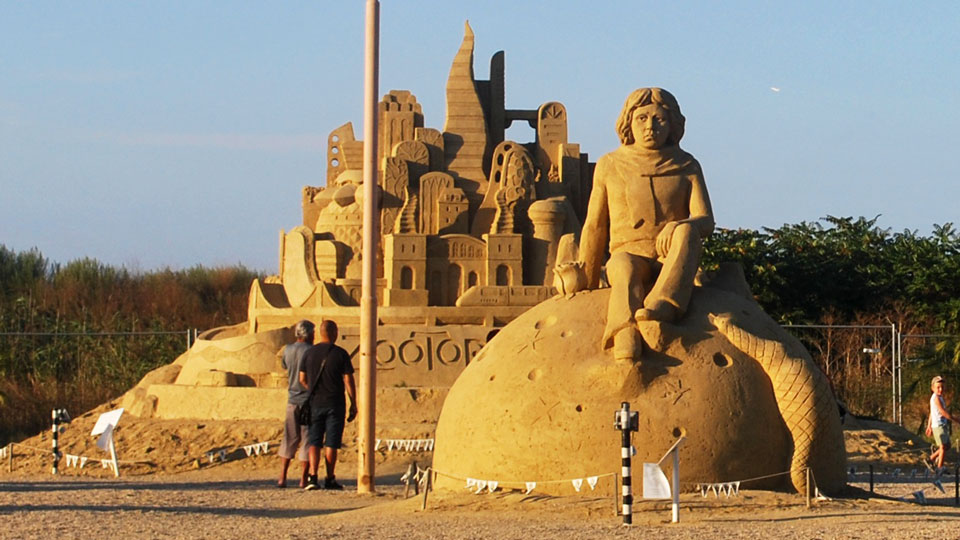 Explore Burgas Sandfest 2017 from 30 June through 30 September at the Lake Park in Burgas. Now in its 10th year, this popular international sand sculpture exhibition has become one of the most anticipated events of the Bulgarian Black Sea summer season.
Burgas Sandfest 2017 Theme and Participants
This year's festival, presented under the banner "Sand Tales" (Пясъчни приказки) is a retrospective celebrating the best of each previous exhibition, presenting the themes of prior years reimagined and freshly created with new vision, excitement, and emotion just for this anniversary event.
Rediscover Burgas Sandfest 2012
Twenty one sculptors from ten countries used over 5600 tons of sand to produce a fairy tale atmosphere on the beach including over 50 beloved characters in twenty compositions. Subjects include Bulgarian folk traditions, fictional characters, famous people, structures and nature scenes. A giant sized birthday cake looks good enough to eat! Participants hail from Australia, Bulgaria, Czech Republic, Germany, Latvia, Poland, Portugal, Russia, Turkey, and Ukraine.
The Complete List of Sand Sculptures in Burgas Sandfest 2017
Ognyan Petkov (Bulgaria) Mummers
Kalin Dilovski (Bulgaria) Bulgarian Women's Choir
Yozef Bakir (Germany) Cinderella
Food Kite (Turkey) Pinocchio
Georgi Zlatev (Bulgaria) Elephant Composition
Petar Petrov (Bulgaria) Clown
Fani Vieyra (Portugal) King Kong
Ivan Lunin (Russia) Gulliver
Maya Puntsule (Latvia) The Kid
Vyacheslav Boretski (Poland) Madagascar
Kevin Crawford (Australia) Castle
Annie Zlateva (Bulgaria) Einstein
Daniel Kanchev (Bulgaria) Han Krum
Igor Hristov (Bulgaria) In heaven
Vladimi Dungyov (Bulgaria) Cars
Karlis Ile (Latvia) Kilimanjaro
Atanas Stoyanov (Bulgaria) The Smurfs
Damian Bumbalov (Bulgaria) Beauty and the Beast
Andrey Vazhinski (Ukraine) Moana
Eugenia Lunina (Russia) Happy Birthday – 10 years of Sand Tales
Rediscover Burgas Sandfest 2011
Information and Ticket Prices for Burgas Sandfest 2017
As usual, Burgas Sandfest 2017 can be found in Lake Park, north of the Sea Garden, right next to the horseback riding stables.
Tickets prices (in BGN):
General Admission 3.50
Students 1.50
Senior Citizens 1.50
Groups 2.50 each person
Children 7 and under free