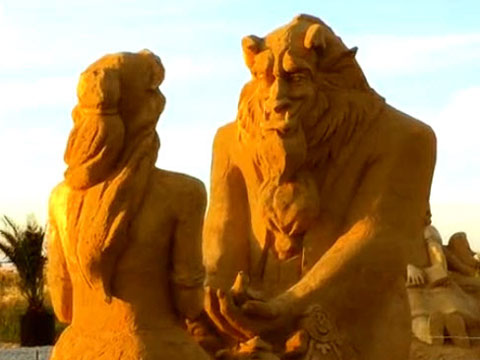 Sandfest 2012, the 5th annual Burgas sand sculpture festival is on now through 15 September at the Ezeroto Park in downtown Burgas.
About Sandfest 2012
Eighteen artists from 9 countries have each produced a sand sculpture depicting characters and scenes from popular fairy tales and cartoons such as Bugs Bunny, Peter Pan, Aladdin, and Beauty and the Beast. Impressive sculptures depicting The Lion King, Finding Nemo, The Chronicles of Narnia, Little Red Riding Hood, the Brave Tin Soldier and elements of Cinderella also grace the park. A huge sand castle is of course at the center of the display. A sculpture of Verdi's opera Aida offers a nod to a perhaps slightly more highbrow form of entertainment.
Overall the artists used 3500 tons of sand to create their works of art.
The festival opened with a gala spectacle by 30 performers on seven stages around the park.
The Burgas Municipality expects to draw many thousands of visitors to view the sculptures while on the Black Sea coast for their summer holidays. If weather allows, the display may stay open until sometime in October, although for maximum enjoyment get out there early to see the festival before weather takes its toll.