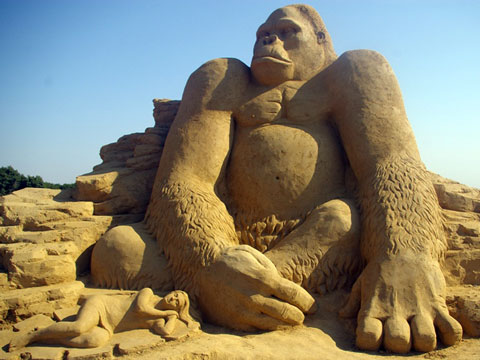 The Burgas Municipality welcomes the Burgas Sand Sculpture Festival 2011 from 1 July to 15 September again this year. First held in 2008, the festival has become a must see event for holiday merrymakers along the Bulgarian Black Sea coast.
Burgas Sand Sculpture Festival 2011 Theme and Participants
This year the theme of the festival is CINEMA. Visitors will be able to see their favorite characters and heroes from films such as Lord of the Rings, Avatar, King Kong, Star Wars, Jurassic Park, Harry Potter, Batman, Robocop and more.
The sand sculpture festival is an international event, with participating artists from Russia, Ukraine, Latvia, Poland, Bulgaria, Czech Republic, the Netherlands, and Australia.
The festival takes place in Lake Park (Парк Езеро), near the Park Hotel and the Burgas Equestrian Center.
Information:
Burgas Sand Sculpture Festival