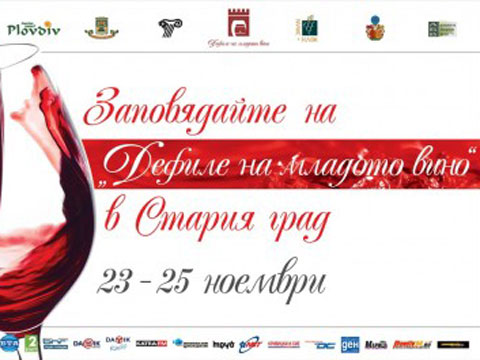 The 4th annual Young Wine Parade takes place in Plovdiv from 23-25 November, where wine producers from around Bulgaria will present their products in the heart of Plovdiv Old Town. Twenty four producers will showcase over one hundred different wines during the festival.
Festival Program:
The festival opens on 23 November with a procession of participants and guests from the square in front of the municipality to the Old Town Lapidarium for a symbolic uncorking of a barrel of young wine.
The program includes wine tastings, workshops and exhibitions devoted to wine and grape products, public readings, and musical performances. The activities are spread out among houses in the Old Town. After attending, many sign up for a wine of the month club to expand upon the knowledge gained at the festival, and to enjoy a glass now and then.
A series of lectures organized by Rosica Kyuchukova, Secretary of the Association of Bulgarian Winemakers, will be held in the Blue House on 24 November.
The musical program includes performances by the Dobrin Petkov School of Music and Dance, the Plovdiv Art Academy, the VIVA vocal group, the Trakia Ensemble, and the Evmolpea Choir.
Awards for the best young wines will be announced during the 'Evening of New Wine" on 24 November. Attendees can participate in the selection of award winners by filling out the survey available with ticket purchase.
Wine and Restaurant Program:
During the week of the festival, wine producers will feature their wines with specially chosen menus in local restaurants.
Organizers:
The Young Wine Parade is organized by the Plovdiv Tourism Council in partnership with the Municipality of Plovdiv, the Ancient Plovdiv Municipal Institute, the National Vine and Wine Chamber, the European Order of the Knights of Wine and the Association of Bulgarian Winemakers.
Information:
Tourism Information Center
1 Central Square
4000 Plovdiv
Bulgaria
(t) +359 (0)32 656 793
(f) +359 (0)32 656 794
Learn more about Bulgarian wine: