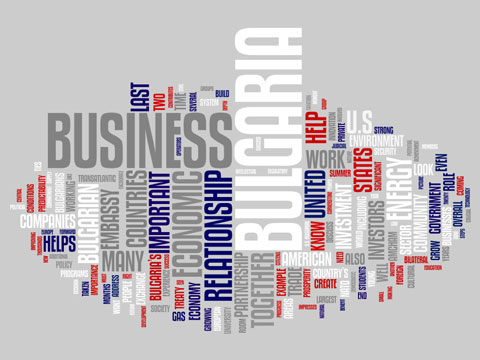 The new U.S. Ambassador Marcie B. Ries emphasized the importance of business ties in an address before the American Chamber of Commerce in Bulgaria (AmCham Bulgaria) on 30 October in Sofia.
Here is the full text of her remarks:
Good afternoon and thank you to everyone for taking the time out of your busy schedules to attend today's luncheon. I had the pleasure of meeting many of you during the annual AmCham barbeque at the Embassy earlier this month and I look forward to meeting and speaking with many more of you in the weeks and months ahead.
My decision to give my first public speech in Bulgaria to the members of the AmCham is an indication of the importance we in the Embassy put on business ties between the U.S. and Bulgaria and on working with all of you here in this room. I firmly believe that business and economic ties are properly a significant part of our work every day here in Sofia.
American advertising executive Leo Burnett famously said, "What helps people, helps business." I will be coming back to that today, as I discuss the multifaceted nature of the U.S.-Bulgarian relationship, the strengths and challenges of the Bulgarian business environment, the role of different factors, including energy, and how we can work together to advance our business partnership, and in the process, the larger relationship between our two countries.
Though I arrived in Bulgaria relatively recently, I have already been extremely impressed by the AmCham's efforts to be a catalyst in both the business community and the overall bilateral relationship. Your focus on building the economic partnership is clear. I have been impressed as well by your commitment to volunteerism, civic activism, and education.
The depth and the breadth of the U.S.-Bulgarian partnership is solid and growing. From working together to address our two countries' most serious security concerns, to economic development, to cultural exchange, the United States and Bulgaria have a lot of common ground. On an international level, in the United Nations and in NATO we work together to advance peace, democratic governance and the economic prosperity of our peoples. Bulgaria is uniquely well positioned to share its experience of transition from a closed society into a democratic political system. And Bulgaria's willingness to support countries in crisis – as shown by the decision to host representatives of Syrian opposition groups last May – is laudable.
U.S. and Bulgarian troops train together and as members of NATO, are deployed together. Bulgaria is a strong partner in NATO – embodying the "in together out together" sentiment we saw at last May's NATO Summit in Chicago.
The terrible terrorist attack on Israeli tourists at Burgas Airport last July was a shock for Bulgarians and really for all of us. Counter-terrorism and law enforcement are two additional areas in which the close collaborative relationship that exists between our two countries contributes to all of our security.
Cultural and familial ties are also important. There are significant Bulgarian-American communities in several cities in the United States.
The largest exchange program between the United States and Bulgaria – the Summer Work Travel Program – provides a unique opportunity for university students to spend several months of their summer holiday gaining invaluable work experience in the United States, while improving their English. Last summer, over 7,500 Bulgarian university students took part.
At the Embassy, through our educational exchange programs we send Bulgarian students and scholars to the United States as well as bringing Americans here to teach, study and do research.
As you expand your existing operations and look for new streams of employees with the linguistic and cultural skills to grow your businesses, I encourage you to keep in mind the tens of thousands of young Bulgarians with experience in U.S. exchange programs who can help your companies grow. This would be an example of Burnett's comment that – "what helps people, helps business."
Of course, any successful business partnership relies on many factors, and a cornerstone is the official economic and commercial relationship between our two countries. Bulgaria's transition to a market economy over the last twenty years has seen the achievement of many regulatory and legislative milestones such as the Bilateral Investment Treaty and the Treaty on the Avoidance of Double Taxation. I know that the AmCham played a leading role in the negotiation of the taxation treaty to the benefit of many of the companies in this room and to many American and Bulgarian citizens residing abroad.
As we look at other defining moments in the economic relationship, Bulgaria's accession to the European Union was clearly a watershed moment in this country's history and contributes not only to increased trade and investment with Bulgaria's European partners but also with the United States.
The transatlantic trade relationship is the world's largest. In a world where the focus seems to be turning east, I want to emphasize that point.
The EU-US trade volume in 2011 was €700 billion and bilateral investment approached €2.4 trillion. Those statistics speak volumes about the importance of our economic partnership to our nations, to our business communities and to our populations. There has been from time to time consideration even of enshrining this relationship in a transatlantic agreement or treaty and even as I speak there is discussion of a Transatlantic Economic and Commercial Pact – a US-EU Free Trade Agreement – to bind our economies even more closely together.
So it is in the context of an excellent overall relationship between the U.S. and Bulgaria and the very important economic relationship that the U.S. enjoys with Europe that I want to address the economic and business picture right here in Bulgaria.
The U.S. trade relationship with Bulgaria grew by 37 percent last year. The United States remains one of the largest investors in Bulgaria and more importantly, American companies are committed to Bulgaria and to this country's economic success. American companies, including those represented in this room, create thousands of high-quality jobs, supply the country's cleanest energy, and contribute in terms of business ethics and corporate social responsibility to improving the overall business environment in the country. You are important stakeholders in Bulgaria's future.
Along with American companies and with the AmCham, the Embassy would like to work in partnership with the Bulgarian government to help to create the conditions for more business and more U.S. investment in Bulgaria. Although much progress has been made, there is more work to be done to ensure a predictable business environment that will inspire continuous confidence from the international investment community.
As all of you know, Bulgaria has a lot to offer to foreign investors. The cost of doing business as well as the cost of labor is relatively low and many Bulgarians, thanks to a culture that reveres education, have very strong technical, foreign language and customer service skills.
For investors to invest and for businesses to grow and prosper, a predictable and transparent regulatory environment is also important.
I know you will agree with me that investors need to be confident that when they start to build something, the rules of the game will stay the same when they reach the end of the project. Investors need a legal system they can trust, so they can be sure that their intellectual property and other rights will always be protected and that if there is a dispute they can rely on a judicial system that will act with impartiality.
The emphasis placed on advancing the rule of law by government, by Parliament and by civil society in Bulgaria suggests that there is an awareness of the linkage between strong legal and judicial systems and advancement in many other areas, including growing the economy.
The introduction of e-government, which is underway, should also be encouraged for its potential contribution to transparency and predictability for both new and experienced investors.
An open dialogue between the business community and government can help move things along. This can happen in many ways, from formal meetings with officials and parliamentarians, to conferences organized by civil society and groups such as yourselves to discuss policy areas with an impact on the business community. A dialogue can be a source of creative ideas and can build a sense of common purpose. Together we should look for opportunities in the coming months.
Bulgaria has great potential for expanded trade and investment in innovative industries and can do even more with the technology sector, especially if additional steps are taken to address the protection of intellectual property.
The Interior Ministry's General Directorate for Combating Organized Crime deserves credit for closing down some of the pirate sites on the internet and arresting the operators. But much more needs to be done. Both government and the private sector have a role in figuring out what are the best tools to bring to the fight.
I cannot talk about the technology sector without speaking for a moment about a theme of growing importance for both our countries – innovation. I know even after a short time here that Bulgaria has some great, young small businesses that are world class. My staff at the Embassy has been involved with StartUP, Junior Achievement, and other initiatives to promote innovation in Bulgaria and we have seen some terrific small but significant successes from these programs. For example, at the StartUP Weekend last month the winners included a group who invented a device to control lights and appliances remotely and monitor energy use and another group with a novel application that would allow real-time sales of private parking spots on an on-demand basis.
As leaders of the American business community, I encourage you to get to know the young Bulgarian entrepreneurs involved in these activities. They need mentors, contacts and help finding sources of venture capital. And, I am certain that they can offer you and your businesses important synergies for your work here. Another example of the truth in Burnett's saying "What helps people, helps business."
Innovation needs islands on which to thrive, and in that vein, I am pleased to see that the Bulgarian government is making progress on the business plan for the Sofia Tech Park. Attracting marquee tenants to the park will not be automatic. There's more to this than just, "if you build it, they will come." We at the Embassy and all of you as private sector leaders with U.S, European, and worldwide networks can help and we should do so with the idea that its success will benefit the business community here as a whole.
I would like now to talk a bit about the crucial role energy plays in the national security of all countries and in the overall health of the global economy. As a country considers its options in this realm, simply put, it is only prudent to have choices.
Diversity of types, sources and routes for energy is important to all countries. As Secretary Clinton said in a recent speech at Georgetown University, energy is central to geopolitics, it is how we power our economy and manage our environment and it is the key to economic development and political stability.
Bulgaria faces several energy policy questions that are crucial to developing the country's economy, creating jobs and protecting Bulgarian consumers. Most are well know to this audience, for example, Bulgarians are continuing to discuss future steps in the area of nuclear power. By the end of this year Bulgaria must renew its natural gas contracts with its main supplier. Decisions must be taken with respect to building regional gas interconnectors with neighbors, which in turn will be important for energy diversity.
Bulgaria also has its own energy resources. Exploration for gas in the Black Sea and in central Bulgaria holds promise. Right now, I am told, about 10 percent of the natural gas that Bulgaria consumes comes from Bulgaria. The easiest path to energy independence is for Bulgaria to increase the percentage of its supplies that come from its own fields.
Developments in the energy sector contribute importantly to the investment climate as a whole. In addition to predictability of supply, predictability of operating conditions is extremely important for investors and operators.
Returning once again to the big picture, I want to reiterate that the fundamental nature of the commitment of the United States to our allies and partners in Europe, including Bulgaria, is a cornerstone of our foreign policy and of economic prosperity on both sides of the Atlantic. This relationship, which has developed breadth and depth since the end of World War II and in the case of Bulgaria really taken off in the last twenty years, should grow and flourish in the coming years.
Business has an important role to play in making this happen, just as our cooperation in other areas helps to create the conditions for business to succeed.
In my time as the U.S. Ambassador to Bulgaria, I look forward to working with you to make our aspirations real. One of the core functions of the Embassy is to assist U.S. companies so that they can succeed in Bulgaria. My team at the Embassy stands ready to help wherever and whenever we can. Working together we will help people, help business and help create opportunity and prosperity for the citizens of both our countries.
See more Word Clouds: