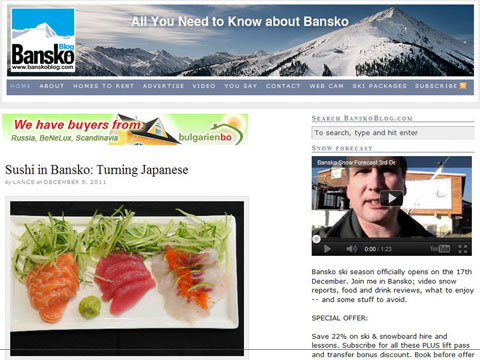 Now that the ski season is upon us, we should try to do what we can to keep informed about conditions on the slopes. That's where BanskoBlog comes in: an easy to read, first person perspective from Lance Nelson about life and leisure in Bansko. Like their tag line days, "All you need to know about Bansko."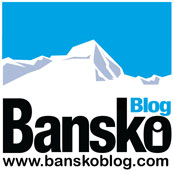 Much of the content comes from what he discovers around town and on the slopes, including weather updates and video reports from the resort. He even makes it easy to get through a weekly newsletter sent to your inbox.
BanskoBlog started out as a project for personal use, but has grown into a travel portal for Bansko. If you are planning to ski in Bansko this winter, check out what they have to offer in the way of ski packages and other deals.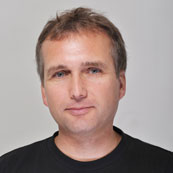 We caught up with Lance this week to ask him how he got started:
Q: How did you discover Bansko?
A: On a boys skiing trip I organised back in 2005. I organised one every January in the usual Alpine resorts, but we, or rather I, fancied a change one year — so that was how Bansko came about.
Q: Why did you start BanskoBlog?
A: Initially I made the blog to show friends Bansko as a ski resort, and the layout of my property. But then I could see others were reading the info and this led to what I felt was the need for more info. I enjoyed the positive feedback, and that was it.
Only after a year of writing articles did the commercial possibilities become clear, and it grew from there. I was in corporate banking in the UK before going full time on BanskoBlog — so quite a change in career.
Q: What is your favorite thing about Bansko?
A: My favourite thing is skiing there when the snow is good. Then the ski back home after an apres ski beer. Then going home to cook dinner for friends. Then maybe seeing a band play at The Happy End or at Sing Sing in the Kempinski.
Q: What is your favorite Bulgarian word?
A: Obicham te. (Well, that's two words, but worth the extra couple of letters!-ed.)
Information:
BanskoBlog
Follow BanskoBlog on twitter
Subscribe to BanskoBlog on Youtube