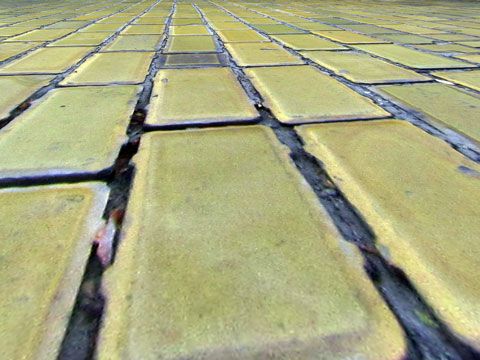 When Prince Ferdinand of Bulgaria married Princess Marie Louise of Bourbon-Parma in 1893, he dreamed of making Sofia a fashionable European capital, on par with the likes of Vienna and Budapest. The only problem was that 19th century Sofia was a rather small, simple town, without even a single paved road.
A Yellow Brick Road for Sofia
To help him out, his Hapsburg cousins sent yellow cobblestones to pave the road between the royal residence and the newly built National Assembly building a few blocks away. The bricks were given ostensibly as a wedding present to celebrate his marriage but were held in storage until 1907, when they were finally installed to give Sofia its very own yellow brick road.
A Symbol of the City
The bricks have become a symbol of the true city, and natives press their bona fides by claiming they were "born on the yellow bricks," although for most that was certainly not the case. It does work, however, as an easily identifiable way to assert ones fidelity as a native Sofian, both in spirit and in truth.
Where were the Yellow Bricks Made?
The yellow pavers were produced in Budapest with material from a local clay pit. This type is used only in a few places, most prominently in Sofia, Budapest and Vienna.