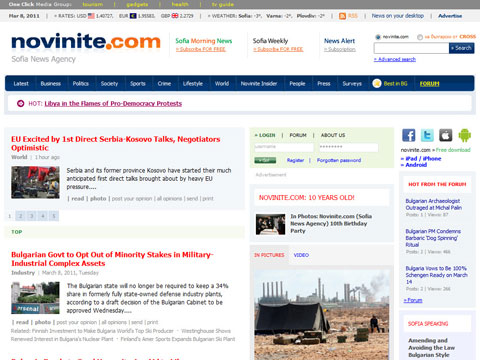 Novinite.com, the website of the Sofia News Agency, is one of the leading English language news sources reporting on Bulgaria and Bulgarians around the world. Part of the OneClick Media Group, it recently celebrated 10 years online. The website is a reliable place to go to read the latest news stories, to research specific topics, and to organize regular free news delivery to your inbox each day.
Webpage Organization
The website header has a lot of information available at a glance or just a click away. A top strip displays the date, major exchange rates, and local weather, as well as links to an RSS feed and a neat little widget that puts a news stream on your desktop. The main navigation steers you to the expected news categories for latest news, business, politics, society, sports, crime, lifestyle, world, the novinite insider (interviews), people and press.
The main column is taken up with a lead stories slider followed by daily news. The sidebar features many widgets drawing attention to comments, opinions, archives and other snippets of news.
News Subscription Services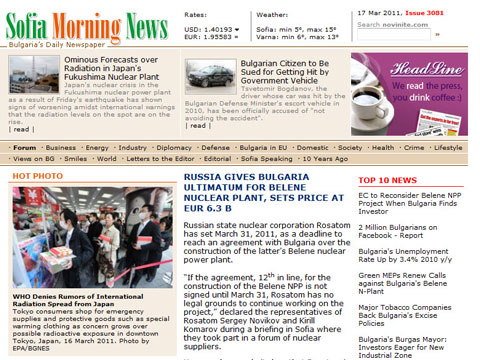 The best things on this website are the links to free subscription products that put news in directly into your inbox on a regular basis. The Sofia Morning News is the most complete daily news update we have seen in Bulgaria, and the Sofia Weekly provides an excellent weekly summary for those willing to wait.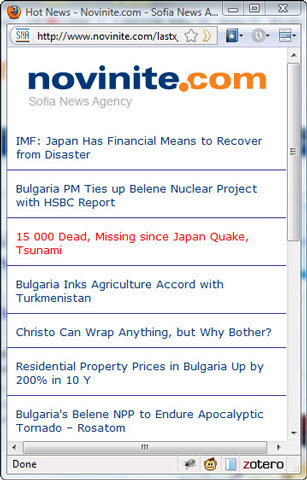 The news alert service enables each subscriber to customize daily updates based on keywords of their own choosing. It let's you get just what you want, and leave out the rest!
Conclusion
Novinite.com is both easy and comfortable to use, and an excellent place to go when looking for Bulgarian news. It is also a reasonably fun browse, with a good mix of hard news, human interest, and editorial coverage about Bulgaria. The special free subscription products are a must for anyone who wants to stay informed.
[ad#Google Adsense Bulstack 468×60 post banner]
Here's a quick look at the whole front page: