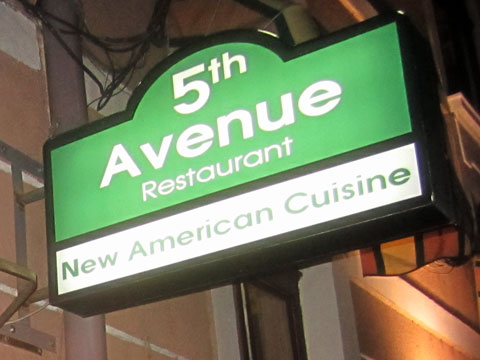 Fifth Avenue is now closed.
This post remains as a matter of record only.
We came for the ribs. Of course there are a lot of different things on the menu, but the ribs are what caught our eye. Not just any old kind of ribs, but the magic label that beckons rib lovers the world over: baby back ribs.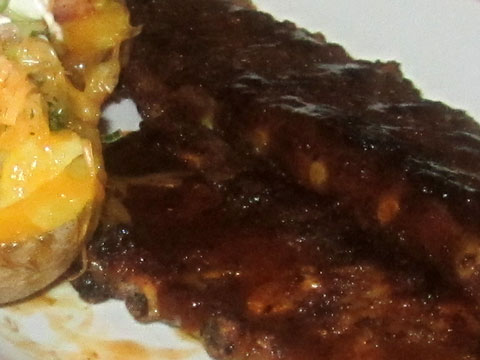 Happily, we weren't disappointed. They serve up the ribs basted in one of three different sauces, St Louis, Jack( as in Daniel's), or Thai. The St. Louis sauce is slightly sweet and sticky. Very Delicious. Apparently St. Louis consumes more Barbeque sauce per capita than any other city in America. The Jack sauce was also tasty, with a hint of bourbon lingering on the bones. We left the Thai sauce for next time.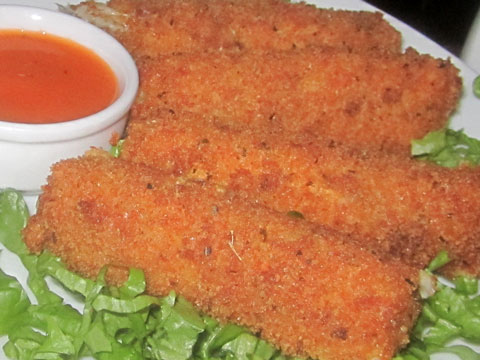 For starters we had fried mozzarella sticks and fried jalepenos stuffed with cheese. Both were crispy on the outside, steamy hot melted goodness on the inside. Served with a tomato sauce for dipping which offered a nice contrast to the cheese. We also tried a plate of nachos, which came loaded with all of the usual fixins' – cheese, salsa, guacamole, and sour cream.
The side dishes were just what you would expect for ribs, with various potatoes on offer and baked beans, too. We tried the stuffed potatoes, which in America we would call twice baked. Definitely a good match for the ribs. The baked beans were very tasty, with a sweet sauce just close enough to American style to make them comfort food, yet with a little something extra to make them interesting in their own way.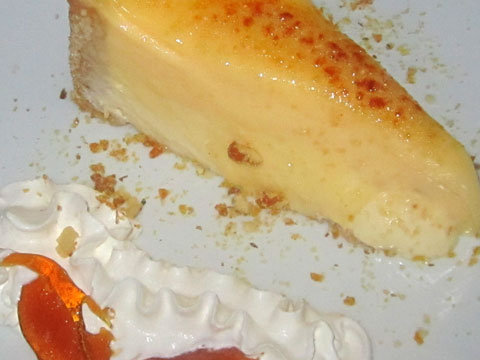 For dessert we tried the chocolate cake and the creme brulee cheesecake. The chocolate cake was fine and just the kind of thing a chocoholic would want, but the Cheesecake really stole the show. It was melt-in-your-mouth delicious, worth a special trip to the restaurant just for its own sake. Probably the best cheesecake I've had in the Balkans.
We washed it all down with beer and coke. The beer selection is a little bit thin, considering the care that has gone into the food, but the wine list looks promising, with a large selection for every taste.
The menu also includes steaks and salads, burgers and pizza. They offer lunch specials daily and monthly promotions as well.
If you find yourself near NDK around lunchtime, consider stopping in for a meal. If you crave ribs, don't walk, run, before they run out. You'll be glad you did.
Information:
5th Avenue Restaurant
174 S.G. Rakovski Street
Sofia
Bulgaria
(t) +359 (0)878 900153
(t) +359 (0)888 770968