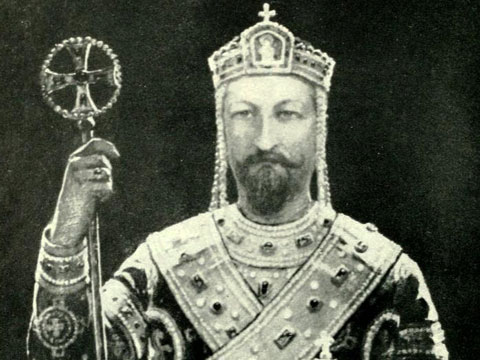 Old photos and book illustrations from the era of King Ferdinand, mostly from Czar Ferdinand and His People, by John MacDonald (1913).
Photo captions:
Czar Ferdinand as Emperor of the Orient (missing from gallery)
Bulgarian peasant lads of Bazardjik, one of the scenes of the atrocities of 1876-7
Czar Ferdinand of Bulgaria
Bulgarian peasants dancing the horo dance
Czar Ferdinand in national costume
Peasants in Bulgaria in summer
A prosperous Bulgarian peasant woman of Tirnovo
Sofia: a view of the Boulevard Dondoukoff
Boris, Crown Prince of Bulgaria
General Savoff with Major-Colonel Burmoff
M. Stambuloff
Children of the Bulgarian Czar (Eudoxia, Cyril, Boris, and Nadezhda)
The Czar and Czaritsa of Bulgaria on their wedding day
Tirnovo, the ancient capital of Bulgaria
Old market stall in Sofia
New National Theatre, Sofia
Panorama of Varna, chief seaport of Bulgaria
The famous monastery of St. John of Rilo (sic.)
Bulgarian country girls and children
Prince Ferdinand and Kuropatkin during maneuvers at the Shipka Pass
Macedonian rebels during the Turkish period
H.M. the Queen of Bulgaria in the dress of a Red Cross sister
King of Bulgaria conferring with General Ivanoff on the field of Lulu Burgas
Bulgarians' makeshift transport wagons
Adrianople: showing the Mosque of Sultan Selim (on the left) and the Old Mosque on the right
Other photos are included in the gallery.