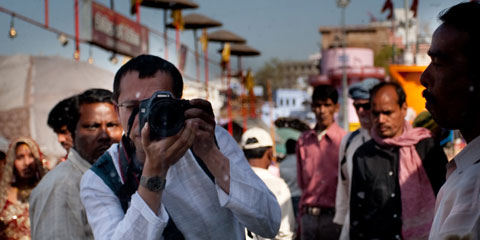 Face to Faith, a photographic exhibition by Pavel Zaslavsky, is showing now through 31 March at the Red House for Culture in Sofia.
Zaslavsky traveled around the world recording people engaged in religious acts, some ritualistic, others personal and individual, and has assembled them into a collection exploring the human emotion that unites them all.
On the surface these are pictures of individuals and groups engaged in acts of faith. On another level Zaslavsky suggests they are an entry point for dialog about the nature of photography. Is photography merely descriptive of the scenes recorded? Or does it offer the viewer insight into a deeper understanding of human nature?
Consider these questions yourself while visiting the Face to Faith exhibition. Open weekdays from 15:00 to 19:00. Entrance free.
Information:
The Red House Center for Culture and Debate
Ul. Lyuben Karavelov № 15
Sofia 1142
Bulgaria
(t) + 359 2 988 81 88 begin_of_the_skype_highlighting + 359 2 988 81 88 end_of_the_skype_highlighting
(e) info@redhouse-sofia.org
[ad#bulstack-basic-post-banner][ad#bulstack-basic-post-banner]