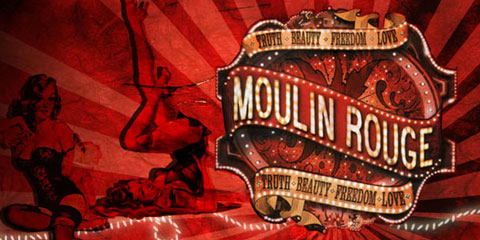 This spring, the students from the American University in Bulgaria will be staging the musical Moulin Rouge! based on Baz Luhrmann's 2001 Oscar-winning movie starring Nicole Kidman and Ewan McGregor. A 30 piece orchestra, the Levon Manukyan Collegium Musicum, conducted by Mr. Levon Manukyan, will accompany the production on tour.
Moulin Rouge! is the story of a young poet who goes to Paris and falls in love with a courtesan who is already promised to another man. As the two of them fall in love they become entangled in a love triangle marked by humor, deception and disappointment.
This is the fourth musical put on by AUBG students in as many years. Following last year's successful national tour of the musical Hairspray, this year's tour will include ten performances in six cities: Blagoevgrad, Sofia, Bourgas, Varna, Stara Zagora and Plovdiv. The organizers expect a combined audience of over 5000 people, which would make Moulin Rouge! the largest Bulgarian amateur production ever staged.
Performances:
Blagoevgrad – 28, 29, 30 March at 20:00
Sofia – 2 April at 17:00 and 20:00
Burgas – 4 April at 19:00
Varna – 6 April at 19:00
Stara Zagora – 8 April at 19:00
Plovdiv – 9 April at 19:00
Information:
American University in Bulgaria / Moulin Rouge! Production
1 Georgi Izmirliev Square
Blagoevgrad 2700
Bulgaria
Rafayel Khachatryan, Producer
(e) rnk070@aubg.bg
(t) +359 883 304 522 begin_of_the_skype_highlighting +359 883 304 522 end_of_the_skype_highlighting