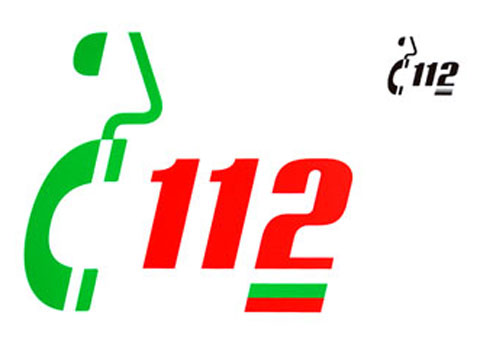 By David McAuley
In case of emergency, it's important to remember that the emergency services telephone number in Bulgaria, and all over Europe, is 112. This is equivalent to the American emergency telephone number 911. This number can be used for medical emergencies and also for crimes and disasters. The operator may speak English.
The emergency number for ambulance only (in Bulgaria) is 150, but the operator may not speak English. The response time will, on average, be more than in Western Europe and North America. Ambulance drivers usually have no medical training, but the team in the ambulance will include a trained doctor and/or nurse. If you are a holder of a European Health Insurance Card (EHIC), this should help you when looking to receive treatment. However, if you don't have one of these cards, you can find more information at european-health-card.co.uk/ about how you can get one yourself.
Recently, a local doctor reported an incident where an ambulance was needed in a popular residential neighborhood for expatriates in Sofia. He said the ambulance which arrived was not fully equipped. The ambulance had a stretcher and an oxygen tank, but no advanced life support equipment (bag valve mask, ventilator, monitors, etc.).
In central Sofia, if you need emergency medical services outside working hours, your best option might be the Military Hospital, or "voenna bolnitsa" (Bulgarian: B????? ???????), located on Georgi Sofiyski Street (Bulgarian: ????? ????? ?. ????????.) Despite its name, it treats adult civilians, even foreign ones – but they may be asked to demonstrate an ability to pay first. All outpatient services must be paid for in cash. No credit cards are accepted at this hospital. Although the hospital may allow you to pay after the service is completed under certain circumstances, it is a good idea to come with sufficient cash, if possible, 300 leva, or so. One local doctor said for a recent visit to the hospital, with several of hours in-hospital stay, some testing, i.v. fluids and medicines, but no imaging, the patient had to pay 160 leva. The military hospital has an ATM in the lobby.
It does NOT, however, have a pediatric ward (see Pirogov Hospital below.) The hospital is being renovated, bit by bit, with money both from the Bulgarian government and outside sources, including NATO. As a result, the look of the hospital varies, meaning, some of it is modern, and other parts are rather worn and aged-looking. The intensive care unit (ICU) and part of the outpatient departments were recently renovated, and have "state of the art" equipment. As of 2009, the emergency room was not yet renovated. Coming to the hospital by car with a sick person, be aware that driving to the entrance of the emergency room is difficult, involving a sharp turn down a steep slope. Parking is tight and no one is allowed to park for long periods on the hospital grounds.
Another alternative is Pirogov Hospital, or "bolnitsa Pirogov" (Bulgarian: ??????? ???????),located on the corner of Pencho Slaveykov Boulevard (Bulgarian: ???????? ????? ?????????) and General Eduard Totleben Boulevard (Bulgarian: ???????? ???. ?. ?. ????????.) This was the very first trauma hospital in Bulgaria, in operation now for more than fifty years. It has a pediatric ward. Ambulances in central Sofia bearing a foreign child will probably go here, a local official said. The entrance to the pediatric emergency room is off Pencho Slaveykov Boulevard. As with the military hospital, Pirogov Hospital is cash-only, no credit cards. There is an ATM in the hospital lobby.
A third hospital expatriates often use is Tokuda Hospital, or bolnitsa tokuda" (Bulgarian: ??????? ?o????.) The street address is Nikola Vaptsarov Boulevard (Bulgarian: ???????? ?????? ?. ????????), but the hospital is actually located on a side street off the boulevard. If driving, a good landmark on Nikola Vaptsarov Boulevard is a glass office building with the word "Microsoft" on it.
This private Japanese owned and operated hospital opened in 2006, but basically has no trauma unit, and is in use during normal business hours only. There is a 24 hour clinic which is "not a real E.R." Tokuda Hospital is the preferred lab for blood tests of staff in many international organizations. Medical emergencies may be brought here during normal working hours. Most doctors speak some English. The exterior/ interior appearance of the hospital is close to that of a hospital in the most developed nations. However, you should expect less privacy at Tokuda than in other countries. One Bulgarian doctor said that the "E.R. is designed in the Japanese way," meaning, three to four patients are set together with little separation, perhaps only a curtain. A Western woman who had a mammogram there said: "Good equipment, no gown."
Tokuda Hospital accepts Mastercard/ Visa, and offers a wide array of non-emergency services. One American said he had a root canal at the hospital and was satisfied with the service.
If you come to Sofia for an extended period, alone or with family, it is a good idea to get to know the route from your home or work place to a hospital, like those mentioned in this article, because you never know when you will need it.
This is an excellent project for a newly arrived expatriate family to undertake on a Sunday afternoon, and can actually be pleasant when the weather is nice. Don't put it off!
[ad#Google Adsense Bulstack 468×60 post banner]