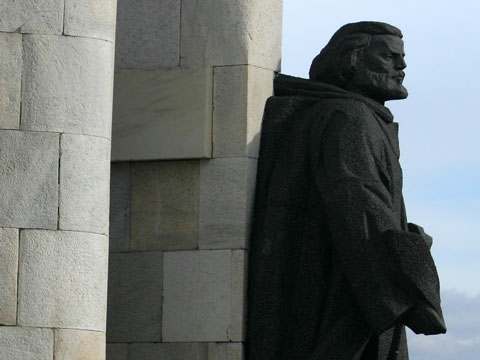 St. Paisiy of Hilandar (1722-1773), also called Father Paisiy, is best known as the author of Slavonic-Bulgarian History (История Славянобългарска), one of the first historical works about the Bulgarian people.  He was canonized in the Bulgarian Orthodox Church for his contribution to the spiritual life of Bulgarians.  Retrospectively he has been recognized as one of the most influential Bulgarians ever because of his role as one of the early voices of the Bulgarian National Revival. His ideas expressed in the Slavonic-Bulgarian History in particular earned him the title "народен будител," a moniker reserved for national heroes famous for promoting Bulgarian history, culture and language. His likeness appears on the Bulgarian 2 leva banknote.
Among the first lines of Slavonic-Bulgarian History can be found perhaps the most famous in all of Bulgarian literature:
Oh, you foolish people!
Why are you ashamed to be called Bulgarian,
and don't read or write in your own tongue?
(О неразумни и юроде!
Защо се срамуваш да се наречеш българин
и не четеш, и не говориш на своя език?)
In its original setting, Paisiy was most likely reacting against Greek efforts to suppress Bulgarian in the churches, but over time, his words became a rallying cry for all who felt pride for their Bulgarian heritage, especially those seeking freedom from the Ottoman Empire.  Today they are still among the first quotes taught to Bulgarian schoolchildren.
Not much information survives about Paisiy's private life.  What is known comes from his writings and a few letters written by scribes of the Hilandar Monastery.  It has been suggested that his real name was Penko Banov, and that he hailed from Bansko in the Samokov Eparchy.  He was born in 1722 and as a boy attended the local church school, where he received only a basic education.
In 1745, Paisiy entered the Hilandar Monastery on Mount Athos to be near his older brother Lawrence (Лаврентий).  There he fell in among a more enlightened set and discovered a world of books in Old Church Slavonic, Serbian, Russian and Greek through which he was able to broaden his education.  Through hard work over the course of two years, he collected and systematized literary sources on Mount Athos, and began writing a Bulgarian history.
In the spring of 1761 he traveled to Sremski Karlovci, Austria (today Serbia), as an assistant Abbot, with an official request from the Hilandar Monastery to recover belongings left to them by one Archimandrite Gerasim, who had died there.  Paisiy returned to Hilandar, but problems with an unpaid obligation to the Turkish authorities forced him to relocate to the Zograph Monastery. There he found additional information about the Bulgarians and finished writing his History in 1762.
After completing this work, he promoted it around Bulgaria.  Many monks and his followers continued to help him copy and distribute the book for Bulgarians.  The only surviving record of his travels describes his visit to Kotel in 1765, where the young priest Stoiko Vladislovov (later Bishop Sofroniy of Vratsa) copied his History.  Evidently after that he visited his birthplace, where another copy of the History was copied in 1771. He died in 1773, at Ambelino (today Asenovgrad), probably on his way back to Mount Athos.

Timeline of the life of Paisiy of Hilandar

[ad#Google Adsense Bulstack 468×60 post banner]