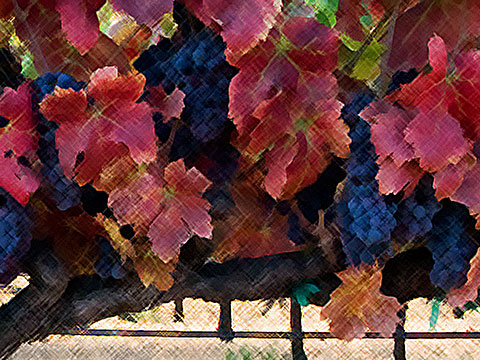 By Magdalena Rahn
Its wines have been rated amongst Bulgaria's top picks. Putting the uniqueness of the country's native grape varieties to work for them, Logodaj (Логодаж) has been making wine as a private enterprise since 1996, when it was founded by three ambitious lads, Malin Shirokanski, Nedyalko Levuliev and Petar Drosanski, who bought up the formerly state-owned Vinprom Logodazh. At first they continued making solely bulk wine, but after a few years they switched focus to the goal of making top-quality wines in vintages much smaller than that which the ex-communist wine factory had ever known — or, at least, than the thirsty proletariat had ever tasted.
The Struma River Valley, where the village of Logodazh and its eponymous winery are tucked into the hilly crevices of south-western Bulgaria, is warmer and sunnier than that of most of the rest of the country; this has proved the ideal growing place for the likes of the indigenous grapes shiroka melnishka loza (also known as "broad-leafed Melnik vine"), ranna melnishka loza ("early Melnik vine"), ruen and rubin, the latter two being Bulgarian hybrids. Rubin, created at the Institute for Viticulture and Viniculture in Pleven as a cross between nebbiolo and syrah, makes ruby-coloured wines with full, soft tannins and notes of blueberry, blackberry and violets, with a slightly spicy finish.
In addition to the native varieties, Logodaj makes wines from the red grapes merlot, cabernet sauvignon, cabernet franc and syrah, which are used to make the premium labels Hypnose, Vitoriano, Incantesimo, Soetto and Nobile. Once fermentation is finished, the red wines age in 225-litre oak barrels, and then spend at least six months in the bottle before being sent to market. They also make white and rosé wines. Recognizing that their strength lies in making wines and not necessarily in tending the grape vines, the three men took a decision to buy grapes from local growers, all while assuring the optimal quality and ripeness of the raw material, and at the same time helping local people carry on a centuries-long tradition.
Industry experts are starting to take notice of Logodaj quality. Their Nobile Rubin 2006 was rated the fifth-best wine in Bacchus magazine's contest Bulgarian Wine Of The Year 2008. The Bulgarian publication described it having a "restrained, but exceptionally classy" nose with juicy fruits, minerals, exotic spices and balsamic notes, and a "lively, round, juicy and fresh" mouth, a well-balanced structure and a long, spicy finish with minerals, an "asphalt tone and roasted meats". In other words, this is a tasty one that will please wine lovers everywhere. It matches well with grilled meats, stews (think gyuvech) or even a good burger. Nobile Rubin sells for about 20 to 25 leva in Bulgaria.
Logodaj has received other accolades as well. At this year's wine and vine trade fair, Vinaria, their Nobile Chardonnay 2007 won the top award in the category of white Bulgarian wines available to the retail marketand their Hypnose reserve 2007 merlot won the gold medal for top retail red wine. Previously, famed wine writer and critic Jancis Robinson named their Soetto, made from 100 per cent cabernet franc, as a wine to follow.
These triumphs showcase the winery's focus on creating "complex, high-quality wines with with rich, concentrated fruit and maximum harmony."
As to how such a philosophy sits with the public, both Bulgarian and in general, Stoicho Stoev, the head winemaker, told Welcome to Bulgaria: "Market demand to make inexpensive wines impedes winemakers' efforts to make great wines. 'Cheap' and 'excellence' do not co-exist." And at Logodaj, they have found that quality does indeed lead to success.
Vinprom Logodaj
4 fl., 41 T. Aleksandrov Str.
Blagoevgrad 2700
Bulgaria
Tel: +359 73 882906 ; +359 73 832948
Fax: +359 73 832949
E-mail: vinpromlogodaj@mail.bg
[ad#Google Adsense Bulstack 468×60 post banner]