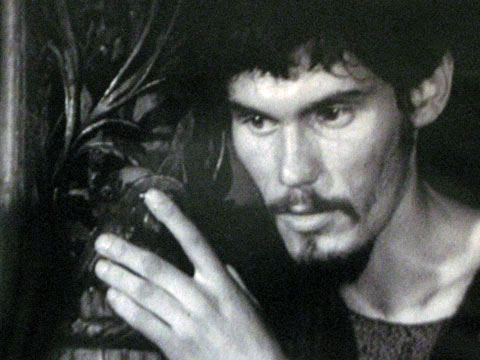 By Violeta Zenganova
The 1969 film The Iconostasis (Bulgarian: Иконостасът) is based on the 1952 Dimitar Talev novel The Iron Oil Lamp (Bulgarian: Железният светилник). The story takes place in the middle of the 19th century in the small town of Prespa, in today's Republic of Macedonia, where a carver named Raphe arrives to craft the iconostasis for the new church.
Housed by the Glaushevi family, he falls in love with their daughter, Catherine. The two start meeting secretly, and when the mother, Sultana, finds out about their relationship, she chases away the carver. Catherine, however, continues visiting him at the church, where he works and lives. The work on the iconostasis progresses slowly and with difficulty.
Catherine's brother, Lazarus, tells Raphe to hurry up and finish the iconostasis, but the carver unexpectedly announces that he wants to marry Catherine, who is pregnant. Catherine's mother Sultana does everything possible for the girl to miscarry. She induces an abortion, and in the process the girl dies. Raphe, suffering, is desperate.
At the same time, strong discontent arises towards the spiritual oppression of the Greek overlords in the town, and Raphe decides to join the fight to forget his pain. The priest, Lazarus and Raphe are arrested and tortured. Eventually, the iconostasis is completed. Raphe uses his carving to depict folk scenes and local traditions, something perceived as heresy by the older people of the church. Ultimately, he leaves town alone and misunderstood.
The film is a joint feature debut of two famous writers – Todor Dinov and Hristo Hristov, known at the time for their interesting theatre productions. Their affinity and fine sense for the art is seen in the film's artistic expression. The core issues addressed include the artist's discovery of personal inspiration, exercise of artistic freedom, and possibility to freely interpret the world around him, all for the cause of shaking off the restrictions of slavish obedience. The atmosphere of Bulgaria's waxing call towards national liberation is felt strongly in this film.
The legendary Bulgarian actress Emilia Radeva, who plays Sultana, told us that it was extremely difficult to fulfill the part of the movie when she had to give a miscarriage inducing potion to Catherine. After she completed the scene, she suggested to the directors that she sing a song that her mother used to sing to her as a child. This touching memory helped the actors overcome some of their stress and gave impetus to the natural and raw power of the scene.
Emilia Radeva remembers the week of Bulgarian films in Munich, Germany, which included "The Iconostasis." The film not only was a visual success, but also won the admiration of the Bulgarian audience in Munich, especially for its remarkable artistic expression.
This film took home awards both in Bulgaria and abroad.