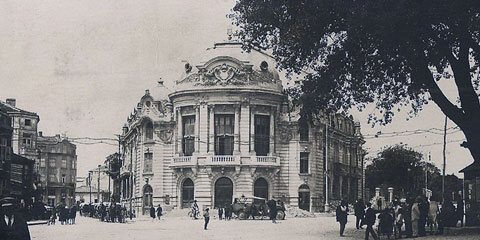 In this 1930's view, the Varna city theatre faces outward from its perch on the southern corner of the city garden.
Construction began during the heady era of development at the beginning of the twentieth century. The corner stone was laid in 1912. During the ensuing Balkan Wars and World War I the project was forgotten, and by 1928 the building sat as a half finished shell, roofless and surrounded by weeds. In that year the city government approved a loan to finish construction, and in 1932 the theatre was finally completed. The first season opened with a production of Ivan Vasov's "Hashove," and in the first two years the theatre staged ten productions, including such classics as "Madamа Butterfly", "La Traviata", and "La Boheme."
Today, the theatre is a cultural and architectural landmark nestled in the heart of a city twenty times larger. The square has become a pedestrian zone. Many of the surrounding buildings are unchanged. (Notice the ornament still visible on top of the building across the street to the left in both photos. ) The theatre is still the center of cultural life in the city, now producing over 200 performances each year. It is also host to Varna Summer, an international festival for the performing arts.