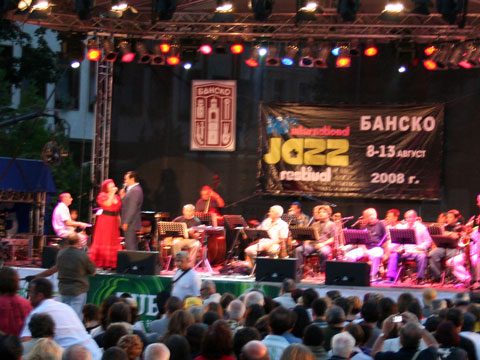 August is the month to escape from your regular routine, and there are events scattered all over the country to help take your mind off of work.
The Bansko International Jazz Festival is on again this year from August 8-13.  The main stage is in the Bansko town center on Vaptsarov Square, with a second stage at the Hotel Royal Towers.  Performers appear from all over the world, including Clare Teal (UK), Candy Dulfer (Netherlands), Axel Zwingelberger (Germany), Jamie Davis (USA), and Bulgaria's own Kamelia Todorova.
The Black Sea coast offers a variety of events:
The 13th International Crafts Fair, the largest of its kind in Bulgaria, takes place in Varna from August 1-21.  The Crafts Fair gathers together talented Bulgarian artisans who demonstrate their creative energies for guests.  Over 100 exhibitors participate.  This is a major cultural event for the city, and the many side activities include concerts, shows and competitions.
If you are looking for a  musical extravaganza, head on over to the Spirit of Burgas festival, August 14-16.  With six performance venues along Central Beach and many local and international acts, there is sure to be something for every taste.  Sponsored by MTV.
For wine lovers, Pomorie town is putting on the 8th annual Sea of Wine festival, now through September 3.    Includes wine growers exhibition, sales, and cultural events.  For more information, call +359 596 35 701.
The Apollonia Festival of Arts celebrates its 25th anniversary from August 29-September 6 in beautiful Sozopol.  Over 60 events in multiple venues.  The program includes theatre, concerts, literature, art and film.

Finally, Madonna's "Sticky & Sweet"  Tour comes to Vassil Levski stadium in Sofia on August 29.  The highly promoted event will be Madonna's first performance in Bulgaria.  Also appearing will be Paul Okenfold, a leading name in modern club culture. Tickets can be purchased nationwide from Ticketpro.