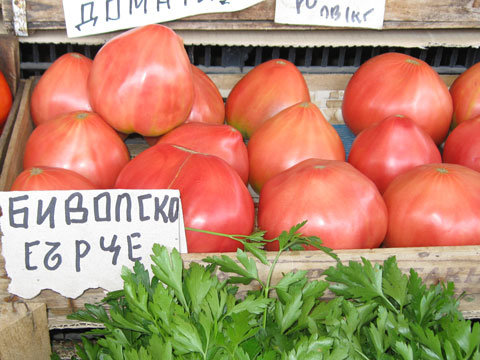 Eating farm fresh tomatoes from the local market is one of the consistent joys of summer in Bulgaria. There are many different kinds, often piled side by side and labeled with hand written signs. One of the most famous is the Bull's Heart tomato, also known as the Great Oxheart tomato. In Bulgarian it is Bivolsko Sartse (Биволско Сърце).
The variety apparently originated in Peru, but it is well known around the world. The fruit is typically large, pink, and heart shaped, with a fleshy interior and few seeds. The taste is unique and unforgettable, sweet and delicious.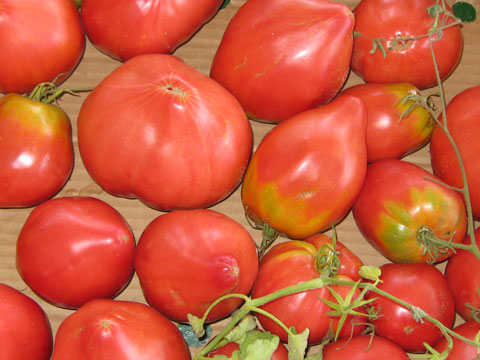 The Bull's Heart is good for eating, and especially for cooking. It makes a very nice pasta sauce or can be added as an ingredient in recipes alongside fish or meat. It can also be prepared as a side dish, either hot or cold. Some people in Bulgaria use it as a base for lyutenitsa, the popular local condiment.
Bull's Heart tomatoes are most enjoyable in a fresh summer salad. Here is one you are sure to like:
Buki's Bulgarian Peasant Salad (sometimes called the "Margarita" salad)
(for two or three people)
Ingredients:
One large or two medium size Bull's Heart tomatoes (300 – 400 g. or 10-14 oz.)
5-6 roasted and peeled red peppers
One medium sized red onion or one rope of spring onion
4-5 cloves of garlic
Bulgarian sirene or feta cheese (200-300 g. or about 8 oz.)
1 sprig of fresh parsley
1 sprig of fresh basil
Olive oil
Salt and pepper to taste
Preparation:
Chop the tomatoes into big pieces of about 1.5 inch square and place in the salad bowl.
Cut the roasted peppers into 2 inch strips and place over the tomatoes.
Cut the onion into strips and add to the bowl.
Smash the garlic cloves with the flat side of a knife, then cut into very small pieces and add to the bowl.
Crumble the sirene and make a pyramid shaped mound over the tomatoes.
Chop the parsley and basil leaves and sprinkle over the top of the salad.
Add salt, pepper and olive oil to taste.
Enjoy your Peasant salad with a glass of rakiya (grape brandy) or mastika (anise-flavoured spirit)!
Do you have something to add about Bull's Heart tomatoes?  Share it here!