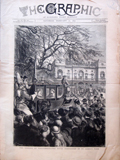 An excerpt  from the British illustrated news weekly The Graphic, issue dated February 17, 1877. The British illustrated newsweeklies often covered human interest stories such as this one about relieving the distress in Bulgaria.
One of the most wise and energetic distributors of the fund so liberally subscribed for the relief of the Bulgarians by the people of England is Mr. Long. This gentleman is well-known in Western Europe in connection with the distribution of relief during the Franco-Prussian War, and during the late inundations in France. His system in dispensing the money entrusted him for Bulgaria is based on the employment in one way or another of as many of the native labourers as each village in process of reconstruction can supply, and thus succouring the people without sacrificing their self-respect. On my journey to Alexinatz many of the villages which I passed through were simply heaps of ruins, but on my return houses seemed to have sprung up in a night like mushrooms.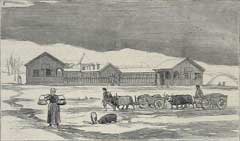 The structures certainly show no signs of having been so rapidly run up, but are solidly built, and may with ordinary care last for generations. The buildings at Venis Keui, which may be taken as a fac simile of the other villages, consists of a quadrangle of commodious dwellings constructed in wood, some fifty in number, with a school and teacher's house in front and cow-houses in the rear, indispensable appurtenances to such an establishment, as the inhabitants will not be allowed, according to their former custom, to house their cattle along with themselves. The buildings have been entirely built by native carpenters under the direction of French artisans. I visited the distribution of the houses which were inaugurated by the Archimandrite, or head of the Bulgarian Church, the service concluding by an address by Mr. Long, who presided.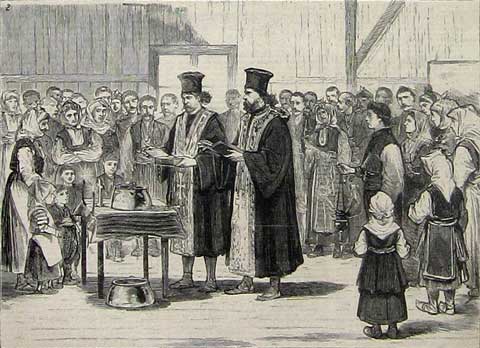 The ceremony was most interesting, and the people seemed deeply impressed. The ground on which the several villages have been built has been purchased in perpetuity, and duly registered by Mr. Long, whilst a placard is placed on each establishment, in the Turkish and Bulgarian languages, stating that the buildings are erected by the benevolence of Great Britain and France combined, and are under the protection of the State. The contrast of these clean, wholesome abodes to the dirty hovels, more resembling the dirtiest of Irish shanties, which the Bulgarians inhabited before they were made homeless, is very great.