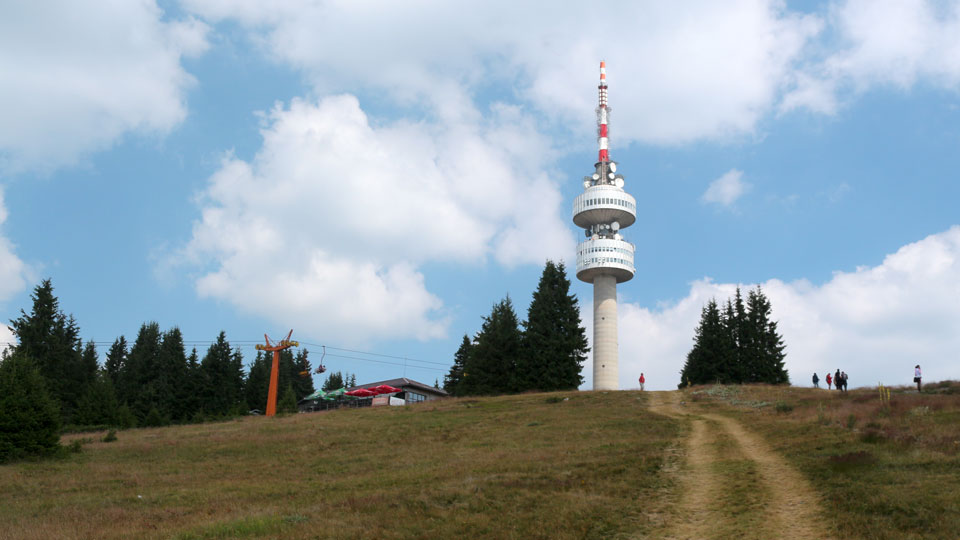 Snezhanka Tower is a TV broadcast tower and tourist attraction located in the Rhodope Mountains at the top of Snezhanka Peak, in the heart of the Pamporovo ski resort. It was the first mixed use television tower in Bulgaria, combining technical broadcast functionality with visitor oriented observation and refreshment facilities in a single structure.
History and Physical Description of Snezhanka Tower
Snezhanka Tower is a 156 meter tall glass and reinforced concrete tower built at an elevation of 1926 meters above sea level on the summit of Snezhanka Peak. Envisioned in the early 1970's, construction of the tower began in 1973 and was completed in 1978.
Three functional stories assembled in two structural rings give the tower a distinctive appearance that has become famous as the symbol of the Pamporovo Ski Resort. The lower ring, at a height of 64 meters, is closed to the public and contains the technical facilities necessary to perform the radio and television broadcasting functions of the structure.
The upper ring, at a height of 85 meters, contains a cafe/bar and observation deck on two levels. The Observation deck, at a height of 93 meters, offers stunning 360 degree views of the surrounding Rhodope mountains from a total elevation of 2019 meters above sea level.
Views from Snezhanka Tower
The observation deck offers panoramic views across the major geographic features of the region. The western view takes in the high mountains of the Rila and Pirin mountains, including Mount Musala, the highest peak on the Balkan Peninsula. Towards the north, the Balkan mountains can be seen stretching west to east across the horizon. To the east lies the Rozhen plateau, where its white observatory stands out against the dark coniferous forests of the Rhodope Mountains. In the south, the Rhodope Mountains roll softly away towards the Thracian plain. It is said that on a clear day the view even extends as far as the Aegean Sea.
Visiting Snezhanka Tower
There is an asphalt road all the way to the top of Snezhanka Peak, but it's more fun to ride up the lift from Studenets. The tower is just a few steps away from the lift station.
Entry to the tower is 5 leva for adults, less for children and seniors, and includes the elevator ride up to the cafe and observation deck. Once up the tower you can stay as long as you want to take in the views in every direction.
Complete the visit with a drink or snack at the cafe/bar, all the while continuing to enjoy the view from your table.
Here are some shots of Snezhanka Tower: